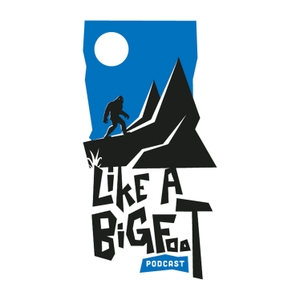 #245: Calvin Johannsen 5 -- The Power of the Beginner's Mindset, Lone Eagle Peak
03.26.2021 - By Like a Bigfoot
This week we are welcoming Calvin Johannsen back to the show!!
This week we chat about a bunch of different topics. We start off hearing about his adventure hiking most of the way up Lone Eagle Peak, one of the most beautiful spots in Colorado. (Anytime Calvin's on we have to geek out about mountains!)
Then we dive into his recent adventures into contracting and remodeling houses and the importance of completely embracing the "beginner's mindset". So many of us struggle to start anything new as an adult because it is uncomfortable and, since we look up to the experts, we feel like we should be flawless right from the get go. Once you learn to embrace your inner "beginner" than the world of possibility opens up before you.
Finally, we chat about our experiences running a marathon with the Iron Cowboy James Lawrence during his 50.50.50 challenge five years ago. Now the Cowboy is in the middle of ramping it up and taking on 100 ironman triathlons in 100 days!! Calvin and I chat about how inspired we are by the pure grit and resilience he has shown every single day of this challenge.
Calvin is a 5 time returning guest and as always he just drops knowledge bomb after knowledge bomb which is why I could talk with him for hours and hours!
MORE FROM CALVIN:
Instagram: https://www.instagram.com/calvin.johannsen/
Calvin Johannsen 1st appearance on the Podcast: https://soundcloud.com/chris-ward-126531464/like-a-bigfoot-episode-2-calvin-johannsen-9516-1023-am
Calvin Johannsen 2nd appearance on the Podcast: https://soundcloud.com/chris-ward-126531464/like-a-bigfoot-calvin-18-johannsen-2
MORE LIKE A BIGFOOT:
Subscribe and Review on iTunes: https://itunes.apple.com/us/podcast/like-a-bigfoot/id1160773293?mt=2
Spotify: https://open.spotify.com/show/7EhpBoeVG2pcTCGwHG85UG
Soundcloud Archives: https://soundcloud.com/chris-ward-126531464
Stitcher Archives: https://www.stitcher.com/podcast/like-a-bigfoot
Facebook Group: https://www.facebook.com/likeabigfoot/
Instagram: https://www.instagram.com/likeabigfoot/