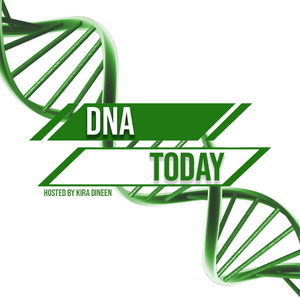 Sponsoring this cystic fibrosis series is Picture Genetics, a unique DNA testing service, with tests designed for every stage of life -- including family planning. With a Picture Parenting carrier test, you can uncover genetic conditions that may be passed on to your kids such as cystic fibrosis. Unlike other companies, this is a clinical grade test where physicians and genetic counselors are involved. It's easy to order and understand with good looking reports! To order your Picture Genetics test, go to picturegenetics.com and use code "DNATODAY" for 25% off and free-shipping! Get actionable genetic insights today to benefit your family of tomorrow.
On the third and final episode of our cystic fibrosis podcast series, our host Kira Dineen is joined by Gunnar Esiason who shares about his experience as a patient with CF. Gunnar is a cystic fibrosis and rare disease patient leader, who is passionate about early stage drug development, patient empowerment and health policy. He is a second-year MBA student at the Tuck School of Business at Dartmouth. He is also working towards a Master of Public Health degree at the Dartmouth Institute for Health Policy and Clinical Practice. His first year course work included a First-Year Project with a health insurance start-up. Prior to Tuck, Gunnar received a BA form Boston College in 2013, worked on an enteral feeding product at a medical nutrition company, and was appointed to the board of directors at the Boomer Esiason Foundation. Gunnar maintains the roles of patient advocate and director of patient outreach at the Boomer Esiason Foundation, named after his NFL quarterback father. He has consulted on clinical trial development, a real world evidence population health study, and a cystic fibrosis-specific mental health and wellness screening tool.
On This Episode We Discuss:
Gunnar's diagnosis and journey with CF
The anatomy of a CF care team
CF awareness and treatments around the world
Balancing CF with school, work, and relationships
How COVID-19 had affected CF patients
Connecting and interacting with people in the CF community
You can learn more about Gunnar and his story on his website and check out this article reflecting back on Gunnar and Boomer Esiason's Sports Illustrated cover. Be sure to follow Gunnar on Twitter, Facebook, LinkedIn, and Instagram.
Don't forget to enter our cystic fibrosis giveaway of the book, "Breath From Salt". The author, Bijal P. Trivedi, was on our first episode of the cystic fibrosis podcast series. Head over to our Twitter, Instagram, LinkedIn, and Facebook to enter to win a free copy!
Stay tuned for the 150th DNA Today on June 18th! New episodes are released on the first and third Friday of the month. In the meantime, you can binge over 150 other episodes on Apple Podcasts, Spotify, streaming on the website, or any other podcast player by searching, "DNA Today". Brand new in 2021, episodes are now also recorded with video which you can watch on our YouTube channel.
See what else we are up to on Twitter, Instagram, Facebook, YouTube and our website, DNApodcast.com. Questions/inquiries can be sent to [email protected]