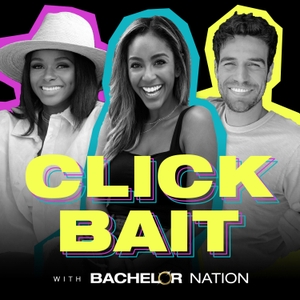 The hosts of "The Betchelor" podcast, Chris Burns and Kay Brown, stop by to talk about staying relevant in the populated social media space and whether influencers are the new celebrities. They also discuss the explosion of TikTok since the pandemic started and share their favorite videos from the platform, including Kevin Bacon cutting a mango. 
Then, Hannah Ann, Joe, and Tayshia dive into the "Click Bait" headlines of the week: Kim Kardashian Says She Makes More Money on Instagram Than One Season of 'KUWTK' Neil deGrasse Tyson Warns Asteroid Could Hit Earth the Day Before Election   Jay Cutler 'Not Happy' About Kristin Cavallari 'Moving On' with Comedian Jeff Dye 
Listen ad free with Wondery+. Join Wondery+ for exclusives, binges, early access, and ad free listening. Available in the Wondery App. https://wondery.app.link/clickbait.
Don't forget to rate and subscribe so you never miss an episode.   
Thanks to our sponsors: 
Best Fiends: Download on the Apple App Store or Google Play 
Honey: JoinHoney.com/clickbait 
SimpliSafe: SimpliSafe.com/clickbait 
See Privacy Policy at https://art19.com/privacy and California Privacy Notice at https://art19.com/privacy#do-not-sell-my-info.