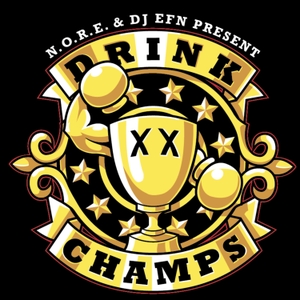 Episode 191 - Christmas Family Ties Edition w/ Special Guests Fat Joe and Dre (Cool & Dre)
12.27.2019 - By Drink Champs
N.O.R.E. & DJ EFN are the Drink Champs. On today's episode The Champs celebrate the Holidays with the DC Fam in this special Christmas episode! The Drunk Uncles take some time to celebrate each member of the Drink Champs Family and most importantly the Drink Champs Army!
The DC Family share some great stories over food and drinks. Taking a break from our traditional Tiger Bone shots, we embrace the holiday spirit by drinking some of our original holiday drinks including the "NORMOSA", "The Make Some Noise" and our favorite "EF-ILLINI" guaranteed to make Santa do the BOP!
Joined by our good friends and DC Alumni Fat Joe and Dre (from Cool and Dre), the duo take a seat at the table and share stories from the making of their new album "Family Ties". Joe shares the story of his reaction when first hearing Eminem's verse on the song "Lord Above" and the controversy it's been stirring up.
As the festivities continue we discuss topics including Cool and Dre's legendary Miami history, Fat Joe almost being featured on The War Report album and memorable Big Pun and Puerto Rican Day Parade stories! In this episode we're also joined by our friends Capone, Scott Storch and more!
Happy Holidays from the Drink Champs family!
Follow:
Drink Champs
http://www.drinkchamps.com
http://www.instagram.com/drinkchamps
http://www.twitter.com/drinkchamps
http://www.facebook.com/drinkchamps
DJ EFN
http://www.crazyhood.com
http://www.instagram.com/whoscrazy
http://www.twitter.com/djefn
http://www.facebook.com/crazyhoodproductions
N.O.R.E.
http://www.instagram.com/therealnoreaga
http://www.twitter.com/noreaga
Boost: Visit BoostMobile.com or your nearest retailer for offer details.
---
Support this podcast: https://anchor.fm/drinkchamps/support