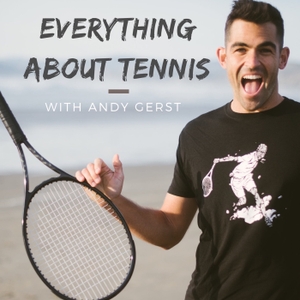 Climbing Mountains, Biking Across America and Tennis Tips with Nate Feldman (Ep. 37)
04.23.2019 - By Everything About Tennis
After scaling an 18,000 foot peak in a remote part of Mexico and biking down the Mississippi River from Minnesota to Louisiana, coach Nate Feldman has a lot of experience and wisdom to draw on when he guides tennis players at the highest level of the game. How do we overcome adversity, learn how to suffer gracefully, win long matches and became more well-rounded people in the process? All that and more is tackled in this week's episode of the Everything About Tennis podcast!
Nate Feldman has made a name for himself as a tennis coach at the top of the game, working with ATP and WTA players along with some the best NCAA Division I men's and women's programs in the country. After playing college tennis at the University of Minnesota, Nate helped coach the University of North Carolina women's tennis team, was the head men's and women's coach at Norfolk State University and served as the assistant men's coach at both Oklahoma State and the University of Oklahoma. In addition, he's worked as a traveling coach for players on the ATP, WTA and ITF circuits.
Nate's extensive coaching experience along with his passion for travel and the outdoors gives him a unique perspective on the game of tennis and coaching players. I hope you enjoy this interesting conversation and I encourage you to spend a little more time outdoors to help connect with the world and simplify your life!
Follow Nate on Instagram --> https://www.instagram.com/nathaniel_feldman
---------
Follow me on Instagram (https://www.instagram.com/andygerst10s) to stay up to date on new podcast episodes or be sure to SUBSCRIBE on Soundcloud, iTunes and Stitcher!
Also, be sure to check out Cadence Insoles and the new Spring 2019 collection from Adidas Tennis via the links below:
adidas Men's Spring MatchCode 9" Short:
http://bit.ly/adiSpringMatchCodeShort
Cadence Insoles:
http://bit.ly/CadenceInsoles
adidas SoleCourt Boost Parley:
http://bit.ly/adiSoleBoostParley
adidas adizero Ubersonic 3 Parley:
http://bit.ly/adiUber3Parley
adidas Men's Spring Parley Polo:
http://bit.ly/adiParleyPolo
adidas Men's Spring Parley 9" Short:
http://bit.ly/adiParleyShort
adidas Men's Spring Parley Pocket T-Shirt:
http://bit.ly/adiParleyPocketTee