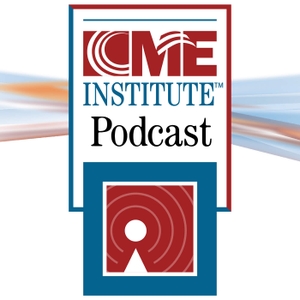 CME Institute Psychiatry and CNS Podcasts
By CME Institute of Physicians Postgraduate Press, Inc.
What's CME Institute Psychiatry and CNS Podcasts about?
Insomnia is an important consideration when evaluating patients with psychiatric disorders. In this podcast series, listen to experts discuss 4 patient cases that illustrate how to recognize, diagnose, and treat co-occurring insomnia and mental illness in everyday clinical practice. This CME podcast series is supported by an educational grant from Merck Sharp & Dohme Corp., a subsidiary of Merck & Co., Inc. The faculty for this CME activity and the CME Institute staff were asked to complete a statement regarding all relevant personal and financial relationships between themselves or their spouse/partner and any commercial interest. The CME Institute has resolved any conflicts of interest that were identified. No member of the CME Institute staff reported any relevant personal financial relationships. Faculty financial disclosures are as follows: Dr Benca is a consultant for Merck and Janssen, and has received grant/research support from Merck and the National Institute of Health. Dr Buysse is a consultant for Bayer, BeHealth Solutions, Cereve, CME Outfitters, Emmi Solutions, Medscape, Merck, and Purdue, and has received grant/research support from the National Institutes of Health. After listening to this podcast series, physicians should be able to consider whether patients with psychiatric disorders and sleep symptoms have a comorbid insomnia disorder and tailor insomnia treatment for patients with psychiatric disorders by considering cognitive behavioral therapy for insomnia as well as drug mechanisms of action in relation to specific symptoms.