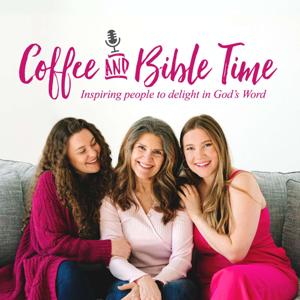 Coffee and Bible Time's Podcast
By Coffee and Bible Time
What's Coffee and Bible Time's Podcast about?
The Coffee and Bible Time podcast offers a source of encouragement and spiritual growth for your Christian faith journey. Our episodes delve into subjects that can evoke laughter, provoke profound thoughts, reveal lesser-known aspects of the Bible, spark your curiosity about contemporary Christian music and entertainment, and provide an enjoyable experience of listening to engaging discussions. 
Our guests include book authors, pastors, Bible scholars, filmmakers, musicians, and missionaries like:  Max Lucado (author/Anxious for Nothing), Dr. Gary Chapman (author/The Five Love Languages), Tiffany Dawn (YouTube/speaker), Chrissy Metz (actress/This is Us), Sam Sorbo (actress/Underground Education), Trudy Cathy White (Chick-fil-A), Dr. Heather Holleman (author/The Six Conversations), Zach Windahl (author/The Bible Study), Dr. Juli Slattery (clinical psychologist/author), Alex & Stephen Kendrick (directors/producers - Courageous, Fireproof, War Room), Karl Clauson (pastor/Moody Radio host), Asheritah Ciuciu (One Thing Alone Ministries), Bethany Beal (Girl Defined), Ryan Whitaker Smith (author/filmmaker), Ben Fuller (CCM Artist), Dr. Charlie Dyer (Bible professor), Tara Sun (Truth Talks podcast), Dannah Gresh (author/And the Bride Wore White), Sharon Jaynes (author/The Power of a Woman's Words). 
Ashley, Taylor, and Mentor Mama are founders of the Coffee and Bible Time ministry which started on YouTube. Their passion is to help inspire people to delight in God's word and thrive in Christian living.  We would be overjoyed for you to join our loving and caring community!