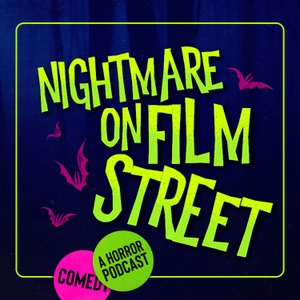 We're only 8 days into Stephen King month here at Nightmare on Film Street, and we can think of no better way than honoring the master of unsuspecting horrors than completely breaking format and talking about two- well, we'll get into that shortly. Until we reveal the films of next week's 'Aaahh!!! Real Big Monsters' episode, we dish the dirt on the biggest stories of this week's horror headlines, including: James Wan's new (non-NIGHTMARE ON ELM STREET) New Line Cinema thriller, dat ARE YOU AFRAID OF THE DARK teaser and, of course, our Jangly Man expectations for André Øvredal's SCARY STORIES TO TELL IN THE DARK!
---
Website: www.NOFSPODCAST.COM
Twitter: www.twitter.com/nofspodcast
Instagram: www.instagram.com/nightmareonfilmstreet
Facebook Page: www.facebook.com/nightmareonfilmstreet
Facebook Group: www.facebook.com/groups/horrorfiendsofnofs
Subreddit: www.reddit.com/r/nightmareonfilmstreet/
Support the Show:
Unlock access to exclusive bonus content and earn some other frightfully good rewards, including shoutouts, merch, and swag by supporting Nightmare on Film Street on Patreon.
Head to www.patreon.com/nightmareonfilmstreet.