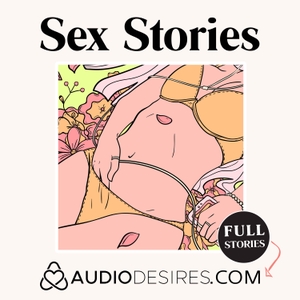 Listen to the full story: https://audiodesires.com/story/composure/
In this audio sex story story, newlyweds Charlotte and Clive test out their new remote-controlled sextoy while enjoying the beautiful installations at the Museum of Contemporary Art. While other guests around them contemplate the aesthetics of philosophy, Charlotte tries to keep her composure while Clive expertly and dominantly controls the vibrating egg inside her. Can Charlotte keep her composure until Clive tells her she can sneak into the washroom to finish? Find out in this week's adventurous sex toy masturbation story.
I tend to favor the second-floor sculpture wing of the Contemporary Museum of Art. That's where all of the ancient Greek and Roman statues are kept. But today I'm feeling… adventurous. A little to our right, the only other visitors in the room silently observe each painting before moving on to the next. I silently, impatiently, wait for them to depart, hoping Clive and I will soon be the only visitors left in this particular gallery. Typically, I don't mind when the museum is crowded. But today…today is different. Today, at the request—no—the insistence of my husband, I'm wearing a small, vibrating egg inside of me while we are wandering around the museum. The egg fits so snugly, so perfectly, inside my pussy. It presses lightly up against my clit and is held inside me by my panties and the tight fit of my black jeans. While being pleasured during our museum visit is a game in itself. The most exciting thing about the egg is…
I have no control over it. I'm standing here in front of this gorgeous nearly 500-year old painting and I can think of nothing except when Clive will decide it's time for the game to begin. I am, admittedly, very turned on by the idea of being edged and denied orgasm again and again. The added element of this happening in public was Clive's idea. I glance over my shoulder and notice that Clive and I are now the only ones in the gallery. Suddenly, the vibrating egg comes to life inside of me.
You will like this audio sex story podcast if you're interested in sextoy, sexual toys, sex aids, love toys, sec toys, sex tools, cheap vibrators, adult shop, sex products, sex accessories, sex gadgets, online sex store, sex items, se toys, couples toys, sx toys, adult shop online, sex furniture, best adult toys, sex devices, sex products online, sex stuff, sex instruments, remote control sextoy, wireless vibrator, bluetooth sex toys, vibrating egg, wearable vibrator, app controlled vibrator, wifi vibrator, vibrating love eggs, remote control love eggs, wifi controlled vibrator, wireless vibrating egg, bluetooth dildo, remote control bullet, remote control sex, internet vibrator, powerful vibrator, best wireless vibrator, remote sex, remote control vibe, internet controlled vibrator, wifi dildo, bluetooth controlled vibrator, app controlled vibrating panties, bluetooth egg vibrator, bluetooth vibrater, remote vibe.