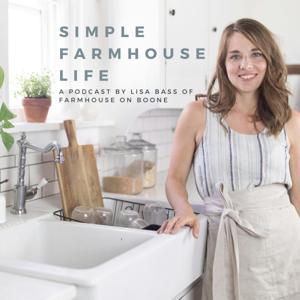 117. Cozy Winter Cooking with Farm-to-Table Restaurant Owner in the Italian Alps | Vea Carpi of Mas Del Saro
01.27.2022 - By Simple Farmhouse Life
It was so fun to talk to a fellow homesteader and mama who shares my love for cozy winter cooking.  My new friend, Vea Carpi, is a farmer, cook, wife, mother, and restaurant owner in the Italian Alps.  In this conversation, she shares all about her unlikely story of becoming a homesteader and what she is currently cooking and serving in her restaurant and home.  I came away from this conversation with so many new ideas to try in my own kitchen, and I hope you will find some inspiration too.
In this episode, we cover:
- What lead Vea to start a restaurant out of her home
- What Vea is serving in her farm-to-table restaurant and in her home
- A creative way to use kitchen scraps to flavor future dishes
- Italians' simple approach to food
- A variety of traditional Italian dishes and techniques that you could easily incorporate into your own kitchen
GUEST BIOGRAPHY
Vea Carpi is an ex-city gal who fell in love with one man and then fell in love with his mountains: the Italian Alps.  Vea and her husband and three children live and work on their small mountain farm raising a variety of animals and growing their own food.  Together they run an intimate farm-to-table restaurant, Mas Del Saro, adjacent to their home.  Vea is the author of a cookbook in Italian and German entitled La Mia Pasta Madre.
CONNECT
Vea Carpi of Mas Del Saro | Website | Instagram
Lisa Bass of Farmhouse on Boone | Blog | YouTube | Instagram
GET MORE FROM THIS EPISODE
Watch this episode on YouTube.
MORE RESOURCES
Want to start your own blog? Get my FREE blogging success masterclass.
Get your Berkey Filter with the Simple Farmhouse Life podcast discount.  Watch my Berkey review video.
Download my updated ebook with ALL of my sourdough recipes.