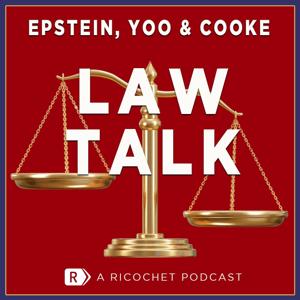 Professors Richard Epstein and John Yoo are back from Memorial Day and the holiday's been good to them: John's got dispatches from Hawaii (tune in for the spam coverage) and Epstein's got big news on the Roman law front.
Then they turn to the burning issues: pardons for Dinesh D'Souza, Martha Stewart, and Rod Blagojevich? Did the FBI overreach by putting an informant in the Trump campaign? Is the deep state real (and is Chester Arthur to blame)? What are the consequences of the Supreme Court allowing states to legalize sports betting (and is there a libertarian case against gambling)? Is the NFL's new national anthem policy illegal (a topic we introduced mainly to allow the professors to dunk on Vox). And finally, what considerations should guide Justice Kennedy's decision on whether to retire? We can think of at least two qualified replacements.
Sponsored by Casper, RXBAR, Quip
Join the conversation and comment on this podcast episode: https://ricochet.com/podcast/law-talk/craps/.
Podcast listeners: Now become a Ricochet member for only $2.50 a month! Join and see what you've been missing: https://ricochet.com/join/.
Subscribe to Law Talk With Epstein, Yoo & Senik in iTunes (and leave a 5-star review, please!), or by RSS feed. For all our podcasts in one place, subscribe to the Ricochet Audio Network Superfeed in iTunes or by RSS feed.