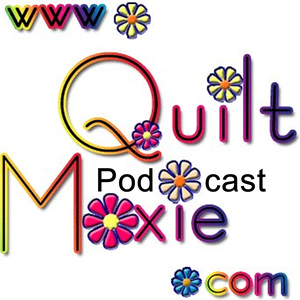 Show notes and everything QuiltMoxie at www.QuiltMoxie.com/shownotes
Topics include:
BIG Thank You for supporting the Podcast !
1. QuiltMoxie Etsy Shop
2. Personal Craftsy Club and 2015 BOM with Jinny Beyer
3. Custom Yoke Sweater
4. Cut the Top-Down Icelandic Sweater
Thank you for your support is the theme of this episode.  Ariana is encouraged by your support and wants to personally thank everyone who has contributed to the podcast.
Thank you very much for your continued support which is so appreciated.
Ariana is excited to announce that the QuiltMoxie.Etsy.com shop is open and invites you to visit.  She continues talking about the Aussieyarning.Etsy.com shop and hints at the future collaborative projects with Joyce to come.
Look out for more awesome prizes including the organizer bag of your choice from Yazzii.com by participating in the Personal Craftsy Club on Ravelry.com.  The Personal Craftsy Club is similar in that you can share your finished Craftsy Projects with Ariana.  To be eligible for a prize, post your finished project with your Craftsy class details in the Personal Craftsy Club thread of the QuiltMoxie the Podcast Ravelry Group by March 31.
To qualify for the prizes:
Be a member of the QuiltMoxie the Podcast Group on ravelry.com 
Post in either the Chatter thread and/or the Finished project thread of the Personal Craftsy Club on Ravelry.com along with your personal Craftsy project of your choice and tell us about it by March 31, 2015
Enter as many projects as you wish
This episode is about 3 Craftsy Classes: 
1. 2015 Block of the Month Club with Jinny Beyer
2. Custom Yoke Sweater with Amy Detjen
3. Top-Down Icelandic Sweater with Ragga Eiriksdottir
Ariana talks about her custom yoke sweater based on one of hubby's favourite sweaters.  She used the CroCUS cast on (which you can view on YouTube at: http://youtu.be/--5dCKoBlr0 ) in a contrasting color yarn which made it easy to finish the hem of the sleeves and body of the sweater.  The underarm is closed with a 3-needle bindoff .  
 
Ariana has uses her largest pair of scissors to cut the 3-stitch steek on her  Top Down Icelandic Sweater with Ragga Eiriksdottir made with Lopi wool which she talked about in the last episode.  Now that the steel is cut, she has to decide on ribbon or fabric and buttons to complete the cardi.
Join our mailing list ( at http://eepurl.com/zJ9lH  ) to get your next and every episode with Show Notes delivered directly to your email as soon as the episode is available.  It's a simple one-time drop of your email address into the form and check "receive podcast by email".   We respect your email privacy.