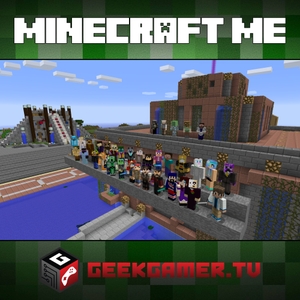 We are back and thank you for your patience!  This week we unveil the latest Server Challenge…Build a Data Center!  We also give you an update on the new FTB Server, the move to 1.8, take your questions and much much more! All this on Minecraft Me!
Show notes and episode page here: http://ggtv.me/mm169
Please RATE, FOLLOW and SUBSCRIBE!
Support Minecraft Me on Patreon! http://patreon.com/minecraft
YouTube:  http://youtube.com/GeekGamerNetwork
Dailymotion:  http://dailymotion.com/GeekGamerTV
Twitter:  http://twitter.com/GeekGamerTV
Facebook:  http://www.facebook.com/geekgamertv
Google+:  http://plus.google.com/+GeekGamerTV
Steam:  http://steamcommunity.com/groups/geekgamertv
Hosts: Chase Nunes, Joseph Falbey
Minecraft can be found at: http://www.minecraft.net
 
Support the show on Patreon and become one…TODAY!
GeekGamer.TV Updates via E-Mail: Subscribe to GeekGamer.TV by Email
Like our Facebook Fan Page, Join our Facebook Group, Steam Gaming Group and also follow us on Twitter!
Connect with us!
Minecraft News:
 
Patreon
http://patreon.com/minecraft
FTB Server Update
1.8 Server Update
Build a Datacenter Challenge in the Pub Server!
Vote for your favorite here!
 
Sonic12310MC
It is the ctOS data center from the game Watch_Dogs by Ubisoft and is the data center that can control the whole city and is now in the hands of the character you play as Aiden Pierce. This building has a upstairs and a downstairs where the servers are. The upstairs is the main office, where everything is being controlled at.
yiwenbowen
it is a data center with flickering lights and sercite door.
maxthecute
a office building for the server challenge
rage2thegame
its a data center under ground its has a supervisor and coolant ducts hope you enjoy
tdaboos
this is a headquarters for a media company which features both offices and a few huge computers(these are marked with signs) I was teamed up with dogeking and legoman for this build. each office "belongs" to someone on the server and has a sign with their name on it inside. thanks to all the people who helped with this it was a lot of work.
awesomeman_574
I built an office building. It has a lookout area with a fountain in the middle and glass dome on the very top. it contains 2 offices for Chase and Joe. please enjoy!-awesomeman_574
OtiosePadre