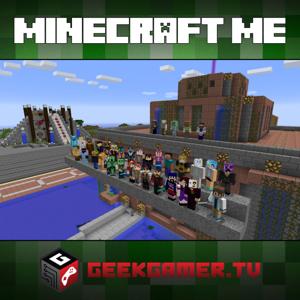 Back from the Memorial Holiday break, we talk about the move to 1.8, give out the results of the Data Center Challenge, discuss the Minecraft News of the Week, take your questions and much much more!  All this on Minecraft Me!
Show notes and episode page here: http://ggtv.me/mm171
Please RATE, FOLLOW and SUBSCRIBE!
Support Minecraft Me on Patreon! http://patreon.com/minecraft
YouTube:  http://youtube.com/GeekGamerNetwork
Dailymotion:  http://dailymotion.com/GeekGamerTV
Twitter:  http://twitter.com/GeekGamerTV
Facebook:  http://www.facebook.com/geekgamertv
Google+:  http://plus.google.com/+GeekGamerTV
Steam:  http://steamcommunity.com/groups/geekgamertv
Hosts: Chase Nunes, Joseph Falbey
Minecraft can be found at: http://www.minecraft.net
 
Support the show on Patreon and become one…TODAY!
GeekGamer.TV Updates via E-Mail: Subscribe to GeekGamer.TV by Email
Like our Facebook Fan Page, Join our Facebook Group, Steam Gaming Group and also follow us on Twitter!
Connect with us!
Minecraft News:
 
Minecraft Pocket Edition Is Getting Player Skins, New Animals And More
http://www.geeky-gadgets.com/minecraft-pocket-edition-is-getting-player-skins-new-animals-and-more-28-05-2015/
How Minecraft Players Are Funding Stem Cell Research
http://time.com/3897728/minecraft-stem-cells/
Moving to 1.8!! WHOO HOOO!!
http://geekgamer.tv/forums/index.php/topic,2516.0.html
Minecraft Me Patreon
https://www.patreon.com/minecraft?ty=h
Server Challenge Results!
1st OtiosePadre
2nd awesomeman_574
3rd tdaboos
Next Challenge:
Show us your best!  Due Saturday June 13th at Midnight!
 
Patreon Supporters for This Episode!
AKBoarder23
allieblaster
AMaeBarkley1
andyb2k
aractor
Bburg
Bburg(zowka_)
BevK_2
bigb13
billt2006
BK_2evedYHVH
BlastForCats
BlkR0se
BuckeyeCarl
carter98521
CEH1
CheekyMonkeyIan
Chewbacco_77
chloe1103
ColinLovesGreen
covarianttensor
CrystalCat19
Dangelus
deadigger
Deadigger
DesignOutlaw
Dgtlreaper
Dizastary
DoctorSmeg
dogeking64
doogie89
Doudrious
douglas1989r
dtherr
Ender_Guy14