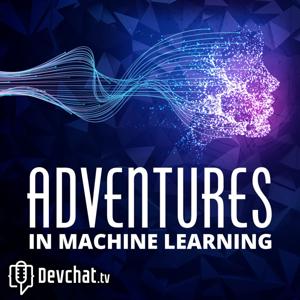 Pier Paolo Ippolito joins the adventure to discuss some of the paradoxes or counterintuitive generalizations people make about their datasets. Ben, Chuck, and Pier dive into how to look at statistical data and how to identify trends in the data.
Panel
Ben Wilson
Charles Max Wood
Guest
Pier Paolo Ippolito
Sponsors
Dev Influencers Accelerator
Level Up | Devchat.tv
Links
Paradoxes in Data Science
Pier Paolo Ippolito
Twitter: Pier Paolo Ippolito( @Pier_Paolo_28 )
Picks
Ben- Python Type Checking 
Charles- The 360 Degree Leader
Charles- Top End Devs
Charles- Become An Author | Top End Devs
Charles- Coaching | Top End Devs
Charles- The Search for Planet X
Contact Ben:
Databricks
GitHub | BenWilson2/ML-Engineering
GitHub | databrickslabs/automl-toolkit
LinkedIn: Benjamin Wilson
Contact Charles:
Devchat.tv
DevChat.tv | Facebook
Twitter: DevChat.tv ( @devchattv )
Special Guest: Pier Paolo Ippolito. Sponsored By:
Top End Devs Coaching: If you have questions about how to grow your skills or take your career to the next level, join us on our next weekly coaching call. It's completely free.
Advertising Inquiries: https://redcircle.com/brands
Privacy & Opt-Out: https://redcircle.com/privacy