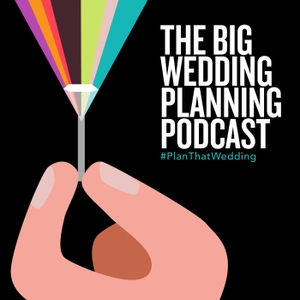 We are so happy to have had Mr. David Tutera as our guest this week. With 35 years, planning events, David is sharing a plethora of valuable tips and fun stories. Not only is this a great interview, but 5 lucky listeners, planning their own weddings were able to ask David their own questions. So much amazingness happening on this one!
David Tutera, entertaining expert, event designer, motivational speaker, TV personality, fashion designer, lifestyle brand and author, is hailed as an artistic visionary whose ability, uniquely creative talents and passion for designing has made him a tremendous success in the event and lifestyle arena. David's specialty is creating one of a kind celebrations that truly represent the honoree(s).
The David Tutera brand is so much more than just a single person. The brand has product lines in fashion, crafting, jewelry, candles, invitations and has expanded to a global Mentorship Program. David has also been written into novels, commercials, scripted TV shows, and movies as a pop culture icon.
David whole heartily believes that every voice is worthy of being heard. We all must lead with positivity, and be there for one another. The greatness in life is the ability to be fully present. Look around and make sure others are protected. If we can each make one person smile a day...together we can change the world.
Big Takeaways
When it comes to relating to your clients, as a planner, it makes sense that you can get caught up in all the details. A lot of planners can get disconnected from their clients in this process. It is so important to invest your heart and mind into what the couple is looking for. David believes that he has really been given a unique opportunity to create a special moment and experience that will be remembered on a totally different level than any one element of the wedding.
A good planner emotes all of this, and shows that they are there for them.
It is so important to LOVE your planner. This relationship is monumental to the process of planning. Some days will be hard, but knowing that your planner loves and cares deeply is crucial.
When it comes to the way things have changed over time, there are still a lot of strongholds on hold traditions and ways of being. Openness to what is real, and meaningful to the couple, and to the planner are so much more important to fitting into the image of what a perfect wedding is.
David has found the vows to be one of the most important things you want to hear. The nervousness is natural, but you can never do that again. He really encourages breaking through that.
Only look at what you can afford to do. You don't need to go into debt to plan a wedding.
David's top priorities with the budget:
Food
Music
Visuals
It's about not spending money you don't have! Work within your own reality. A perfectly awesome wedding can be created with your budget. The wedding is about the couple!
The David Tutera Experience is for Event Business Professionals and Entrepreneurs. It is three days of education and events that will connect, enlighten, and ignite success for all to celebrate.
Live Zoom Audence Questions For David:
Emily: What would you suggest to incorporate Disney into our wedding without making it too obvious?
David's Answer: You have to have the magic, down to the sparkles and the feelings. Colors are significantly important. Red and black can look a little Halloween-y or goth-y. Adding a little sparkle into the bouquets can really make it all pop out. Grays with your chosen black will look really great. You don't want the decor to be too dark.
Lindsey: Do you have any tips, stories, or advice for incorporating local artists and entertainers into your wedding?
David's Answer: Think about bringing in artists that could bring in art that would be installed around the space. Almost like a gallery exhibition. You can take a well-known or existing piece of art and ask the florist to re-create the pieces with flowers. See if the artist will do an exhibition for you at your wedding.
Aubrey: How can I make the experience personal and fun for all our guests in a slightly larger wedding (~185 guests)?
David's Answer: No matter the guest count, the most important thing is that you and your partner are always side by side. Mingle with family and friends together. Make sure you are showing yourself as a couple, and find that flow together. Connect your guests to each other in the way a good host would do.
Margo: How can you add some personality into the design of the wedding elegantly without being too literal?
David's Answer: Find things you both love and think about how to add that into the design. For instance, you love art, reflect that in the table placements. He loves food, let him create unique and fun choices for the meals. And that can begin to tell the story of the two of you together at the same table.
Megan: What do you want the bride and groom to consider during the wedding planning process to avoid burn out? What is the most important thing to focus on?
David's Answer: Remain focused on each other. Make sure the conversations you are having with your planner are communicated. Don't make swift changes on your own. Consider each other constantly. Do not plan your wedding EVERY SINGLE DAY. Allow room to breathe and rest. Allow time for it not to be priority. Get excited again. It's very much about mindset!
With a good planner that you have a great relationship with, hopefully the week or two prior should allow you live you life without planning the wedding. You should be able to relax and act as if you were not in the middle of the process. Then when the wedding happens, it feels like a dream.
Day-of coordination is not helpful! This will create more drama and waste energy. If you cannot afford a planner, try to have a month-of coordinator. It will save you so much stress.
Links We Referenced
davidtutera.com
The David Tutera Experience
The Big Wedding Planning Master Class
This episode's Sponsor: The Bach App
Quotes
"Your guests, that are the audience watching you get married, will find something new about you as a couple, as human beings." - David
"It's really a very special opportunity when a planner and a couple are truly connected." - David
"You can have $100,000 budget and you can still have a horrible wedding... It is about the people that are there, and it all trickles down from the energy of the couple." - David
The Big Wedding Planning Podcast is...
Hosted and produced by Christy Matthews and Michelle Martinez.
Edited by Veronica Gruba.
Music by Steph Altman of Mophonics.
On Instagram @thebigweddingplanningpodcast and be sure to use #planthatwedding when posting, so you can get our attention!
Inviting you to become part of our Facebook Group! Join us and our amazing members. Just search for The Big Wedding Planning Podcast Community on Facebook.
Easy to get in touch with. Email us at [email protected] or Call and leave a message at 415-723-1625 and you might hear your voice on an episode
On Patreon. Become a member and with as little as $5 per month, you get bonuse episodes, special newsletters and Zoom Cocktail Hours with Christy & Michelle!
Our Partners
Special Deals for Listeners - TBWPP Enthusiastically Approved!
Susan's Travel Services
FlowerMoxie
The Flashdance
Cactus Collective
Unboring Officiant Special Guest: David Tutera. Sponsored By:The Bach App: Bachelorette & Bachelor party planning made easy with this awesome free app! Invite your party guests, launch polls with your group, plan your itinerary. And most importantly, BACH has all the best local experiences perfect for these parties bookable right in the app
Promo Code: BIGWEDDING