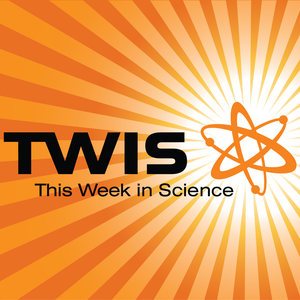 What is in the This Week in Science Podcast?
The Top 11 Science Discoveries of 2019, And Much More… Merry TWISmas, everyone!
Want to listen to a particular story from TWIS, the This Week in Science podcast? You can do that here. Just look for the time-code link in the description.
DISCLAIMER, DISCLAIMER, DISCLAIMER!!!
'Twas the night before TWiSmas,
when all thro' the house,
Researchers were stirring,
some with a mouse;
The stories were gathered by the broadcast with care,
In hopes that the listeners soon would be there;
The Patreons were nestled all snug in their beds,
While visions of supernova danc'd in their heads,
And Blair with her corner,
and Kiki with brains
Had just listened to Justin's Christmas disclaims…
… When out on the interwebs there arose such a clatter,
I sprang from the chatroom to see just what was the matter.
Away to the website I flew like a flash,
Clicked open search browsers and threw up some hash tags.
When,
what to my wondering eyes should appear,
But 11 top stories, the best of the year…
On this week in science,
Coming up next…
Let's start our COUNTDOWN!
NUMBER 11 – Evolution of Life
Ancestor Cells
A comparison of the transcriptomes of sponges to single-celled organisms suggests that multi-cellular organisms didn't evolve from single-celled organisms, but instead from something more similar to stem cells.
First Cells Collaborated
Fatty acid membranes are normally disrupted by salts. But, UW researchers discovered that fatty acids are stabilized by amino acids enabling th...