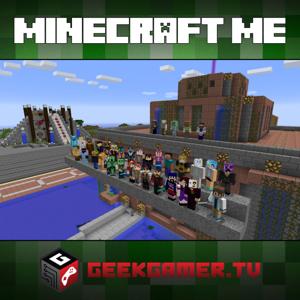 Heading back to the world of Diversity 2 and we decided to take our last attempt in 2015 and complete the Arena Mode!  We also cover the popular Minecraft News of the Week, offer up a resource pack pick and take your questions!  All this and more, coming up!
Show notes and episode page here: http://ggtv.me/mm186
Please RATE, FOLLOW and SUBSCRIBE!
Support Minecraft Me on Patreon! http://patreon.com/minecraft
Server Information:  http://geekgamer.tv/mcserverinfo
YouTube:  http://youtube.com/GeekGamerTV
Dailymotion:  http://dailymotion.com/GeekGamerTV
Twitter:  http://twitter.com/GeekGamerTV
Facebook:  http://www.facebook.com/geekgamertv
Google+:  http://plus.google.com/+GeekGamerTV
Steam:  http://steamcommunity.com/groups/geekgamertv
Hosts: Chase Nunes, Joseph Falbey
Minecraft can be found at: http://www.minecraft.net
 
Support the show on Patreon and become one…TODAY!
GeekGamer.TV Updates via E-Mail: Subscribe to GeekGamer.TV by Email
Like our Facebook Fan Page, Join our Facebook Group, Steam Gaming Group and also follow us on Twitter!
Connect with us!
Minecraft News of the Week
Minecraft Coming to Nintendo Wii
http://oceansidepost.com/2015/12/19/minecraft-is-finally-coming-to-nintendos-wii-u.html
http://www.idigitaltimes.com/minecraft-wii-u-world-size-confirmed-sadly-its-smaller-ps4-498704
Big Console Update
http://nichegamer.com/2015/12/minecraft-gets-a-sizable-update-on-home-consoles-includes-new-potions-blocks-more/
https://www.youtube.com/watch?v=ek6kPs3yDuA
Pacific Palisades Boy, 10, Is Minecraft National Champion
http://patch.com/california/pacificpalisades/pacific-palisades-boy-10-minecraft-national-champion