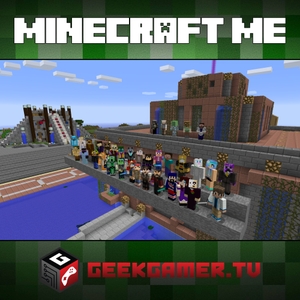 Parkour is not our strong point, but we push on and try to complete this branch in Diversity 2 this week!  We also cover the Minecraft News of the Week and take your questions!  All this and more, coming up this week!
Show notes and episode page here: http://ggtv.me/mm189
Please RATE, FOLLOW and SUBSCRIBE!
Support Minecraft Me on Patreon! http://patreon.com/minecraft
Server Information:  http://geekgamer.tv/mcserverinfo
YouTube:  http://youtube.com/GeekGamerTV
Dailymotion:  http://dailymotion.com/GeekGamerTV
Twitter:  http://twitter.com/GeekGamerTV
Facebook:  http://www.facebook.com/geekgamertv
Google+:  http://plus.google.com/+GeekGamerTV
Steam:  http://steamcommunity.com/groups/geekgamertv
Hosts: Chase Nunes, Joseph Falbey
Minecraft can be found at: http://www.minecraft.net
Support the show on Patreon and become one…TODAY!
GeekGamer.TV Updates via E-Mail: Subscribe to GeekGamer.TV by Email
Like our Facebook Fan Page, Join our Facebook Group, Steam Gaming Group and also follow us on Twitter!
Connect with us!
Minecraft News of the Week
 
Snapshot 16W02A
http://mojang.com/2016/01/minecraft-snapshot-16w02a/
Let's Play Minecraft:
http://www.minecraftforum.net/forums/topic/2200445
DIVERSITY 2 BUILD TEAM:
abrightmoore (Creator of MANY MCEdit filters)
>> youtube.com/abrightmoore || twitter @abrightmoore
ColdFusionGaming (Creator of Gloria)
>> youtube.com/ColdFusionGamingMC || twitter @CFGMC
goldenturkey97 (Creator of MindCrack Boss Battles)
>> youtube.com/goldenturkey97 || twitter @goldenturkey97
Jesper the End (Creator of the Code)
>> youtube.com/jespertheend2 || twitter @Jespertheend
qmagnet (Creator of Diversity)
>> youtube.com/theqmagnet || twitter @theqmagnet
qwertyuiopthepie (Creator of GSW)
>> youtube.com/Temporarily9 || twitter @qwertyuiopthepi
 
Patreon Supporters for This Episode!
allieblaster
XineasHD
Gradrok
Taka_Akai
BlkR0se
BlastForCats
BuckeyeAnnabelle
proslaws
Deadigger
DesignOutlaw
Ronin_Slain
jgeekw
zowka_
AMaeBarkley1
DUNCANxIDAHO
Dizastary
Peggum
douglas1989r
JoseO42
dtherr
BuckeyeCarl
AKBoarder23
plleg