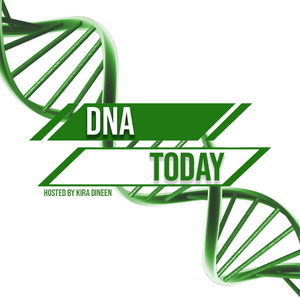 By the end of 2020, roughly 100 million people will have taken an at-home DNA test, according to MIT Technology Review. To put that into perspective, that's more than the combined populations of Texas, California and Florida! In this podcast episode we explore considerations of direct-to-consumer genetic testing.
Guests joining the episodes are from DNA ALLY, the matchmaker between direct-to-consumer genetic test consumers and genetic counselors. Nargol Faravashi, is the Co-Founder of DNA ALLY with a background in genetics and business. She had over 20 years of experience in launching clinical products for genomic companies along with an extensive background in business and marketing.

Christin Coffeen has been a licensed certified genetic counselor for almost 20 years. She has a background in cancer and prenatal genetic counseling in the clinical setting as well as extensive industry background in medical affairs. She is also a member of DNA ALLY's board of advisors.
On This Episode We Discuss:
Comprehensiveness of direct to consumer (DTCs) genetic testing tests
Types of information from genetic testing including
BRCA1/2 testing
Alzheimer's disease
Carrier status for conditions like Cystic Fibrosis
Possibility of genetic testing becoming routine testing
Healthcare provider's ability to counsel patients on DTCs
Read more on DNA ALLY's Blog Post
DNA ALLY's solution to the overwhelming demand of counseling on DTCs
Opportunities for genetic counselors
Learn more about DNA ALLY on their website and receive 15% off with promo code "DNAToday" on your direct-to-consumer genetic testing session with a genetic counselor.
Stay tuned for the next new episode of DNA Today on March 6th with Dr. Janina Jeff talking about her brand new genetics podcast, In Those Genes! New episodes are released on the first and third Friday of the month. In the meantime, you can listen to over 100 other episodes on Apple Podcasts, Spotify, or streaming on the website.
Don't forget to check back in April for the launch of the first ever series on the show about fertility! Its launch is timed to coincide with infertility awareness week, April 23–29. I'll be speaking with voices in fertility to explore topics like personal journeys, IVF, conceiving via a donor, media portrayal, genetic counseling, and fertility testing. Sponsoring the series is LetsGetChecked, check out their home testing kits including fertility, sexual health and others. Receive your own kit for 20% off by using code "DNAToday". 
See what else I am up to on Twitter, Instagram, Facebook and iTunes. Questions/inquiries can be sent to info@DNApodcast.com.