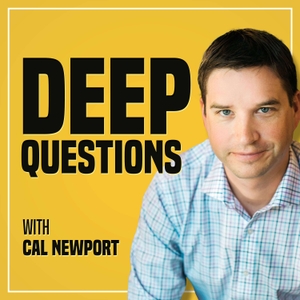 Below are the questions covered in today's episode (with their timestamps). For instructions on submitting your own questions, go to calnewport.com/podcast.
DEEP DIVE: Does email have a mind of its own? [6:23]
WORK QUESTIONS
 - How do I avoid boring research? [16:35]
 - How do I learn new skills without becoming overwhelmed? [19:44]
 - How do I better structure workplace communication? [23:34]
 - How do I say "no" more often? [29:41]
TECHNOLOGY QUESTIONS
 - When should I stop listening to your podcast? [39:12]
 - How do I deal with excessive browser tabs? [40:14]
 - Will the world eventually force me to buy a smartphone? [49:08]
DEEP LIFE QUESTIONS
 - (A brief meditation on the pleasures of regular autonomous creative work) [52:20]
 - How long should planning take? [57:28]
 - Is reading fiction a waste of time? [59:04]
 - What is your opinion of Alexa? [1:02:41]
 - Is a mission different than a passion? [1:06:22]
Thanks to Jay Kerstens for the intro music.