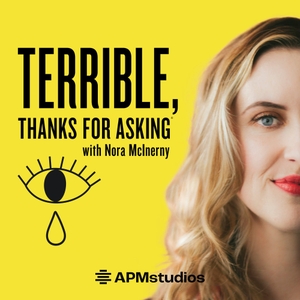 Nora loves giving advice, especially when the questions are really easy and really low stakes. In this episode, she answers a few of your frequently asked questions and later teams up with comedian Tig Notaro to dole out some wisdom about grief, friendships and her everlasting love for skater boys. If you like this Q&A; type of format and want to see more episodes like these, let us know by sending us a DM on Instagram @ttfapodcast. Book recs mentioned in this episode include Bird by Bird by Anne Lamott and On Writing by Stephen King. Another one Nora loves is Before and After the Book Deal by Courtney Maum.
You can listen to Don't Ask Tig at dontasktig.org or wherever you listen to podcasts.
Join the TTFA reading club: TTFA.org/readingclub
Our twice-monthly newsletter features behind-the-scenes content, previews of upcoming episodes and more. Sign up.
When you shop our Bookshop.org store, you support the author, independent bookstores AND our show! Shop here.
Shop for your favorite TTFA gear at TTFAmerch.com
Read the transcript for this episode here.
You can catch up with TTFA on Instagram, Twitter and Facebook using @ttfapodcast. Nora's Instagram is @noraborealis.
TTFA is public media. Which means we are supported by you. You can join us with a contribution at ttfa.org/donate
And check out our sponsors this week:
Yarlap: yarlap.com with code TTFA
Greenlight: greenlightcard.com/million
ID Tech: idtech.com/thanks with code THANKS
Bloomscape: bloomscape.com with code ASKING