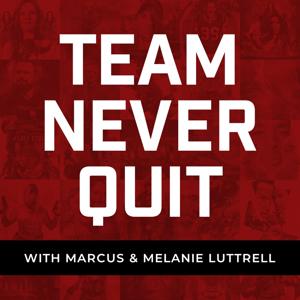 Dr. Donnelly Wilkes Part 2: Author of Code Red Fallujah, Navy Commendation Medal of Valor Recipient, and Founder of Summit Health Group
08.25.2021 - By Team Never Quit
In this week's episode, we bring you Part 2 of Dr. Donnely Wilkes' personal and amazing story of his experiences on the battlefield of Fallujah.
With 2 combat tours in Iraq under his belt, Dr. Donnely Wilkes shares his first-hand experiences with refreshing transparency. While one would think someone with that kind of experience would be tough as nails, Wilkes describes his true feelings and fears of being in a real-life battle with people wanting to kill him, all the while serving as a medic in battlefield conditions.
Wilkes is the founder, president, and medical director of Summit Health Group in Thousand Oaks, CA, and authored Code Red Fallujah, his first-hand narrative of his role in the Battle of Fallujah. He served seven years on active duty and was awarded the Navy Commendation Medal with Valor for his actions in the battle of Fallujah in April of 2004. Upon completion of his naval service, Dr. Wilkes was honorably discharged as a Lieutenant. He is a devoted husband, father, and Christian.
In this episode you will hear:
I hadn't fully accepted my fate, and I wasn't quite all the way in. And I said to myself, "you gotta be all the way in right now, or you're gonna do something stupid or emotionally not make it."
I finally came to terms with "If this is my fate, so be it."
As a regular occurrence, I would take cover in the corner of the building when rockets were landing around us, but that was life in Iraq.
One night when I pushed the button on my laptop to end a movie, it was like the hiss of a thousand snakes descending upon me and rockets shook our entire building.
When rockets would blow through our buildings and tents, I would get pissed since I couldn't fight back in the dark of night.
I tried to do what I could to be a good human.
Everybody, in some capacity, should serve. It will help everyone understand and appreciate the benefits of providing service.
Writing the book was really therapeutic for me.
In the time of your greatest fears, God will meet you there, and you will persevere.
Beware of what you pray for – you may get it.