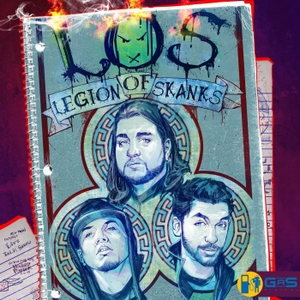 Comedians Big Jay Oakerson, Luis J. Gomez, and Dave Smith discuss getting arrested, suicidal exes, lego sex toys, comedy classes and Andrew "Dice" Clay's Bells Palsy diagnosis. Plus, Luis discusses how his exes new boyfriend is teaching his son boxing, and the guys add a few big words to their vocabulary. All This and More, ONLY on The Most Offensive Podcast on Earth, The LEGION OF SKANKS!!! 
Air Date: 08/27/21
Support our sponsors! Go to YoDelta.com and use promo code GAS for 25% off your order!Visit RockAuto.com for all you auto-part needs and let them know that you heard about them on Legion of Skanks Podcast!Check out BreatheFum.com and use promo code LEGION for 10% off your order!
Legion of Skanks merchandise is available at PodcastMerch.com/LOS!
You can watch Legion of Skanks LIVE for FREE every Monday & Friday at 8:00pm EST at GaSDigitalNetwork.com/live.
Once you're there, sign up to GaSDigitalNetwork.com with promo code LOS to receive a 7 day FREE TRIAL with access to our entire catalog of archived episodes! Including over 350 video episodes and over 500 audio episodes that have ever been recorded! On top of that, you'll also have the same access to ALL the other shows that GaS Digital Network has to offer!
FOLLOW THE WHOLE SHOW ON SOCIAL MEDIA!
Legion of SkanksInstagram: https://www.instagram.com/legionofskanks/Twitter: https://twitter.com/LegionOfSkanks
Big Jay OakersonInstagram: https://www.instagram.com/bigjayoakerson/Twitter: https://twitter.com/bigjayoakerson
Luis J. GomezInstagram: https://www.instagram.com/gomezcomedy/Twitter: https://twitter.com/luisjgomez
Dave SmithInstagram: https://www.instagram.com/theproblemdavesmith/Twitter: https://twitter.com/comicdavesmith
GaS Digital NetworkInstagram: https://www.instagram.com/gasdigitalTwitter: https://twitter.com/gasdigital
See Privacy Policy at https://art19.com/privacy and California Privacy Notice at https://art19.com/privacy#do-not-sell-my-info.