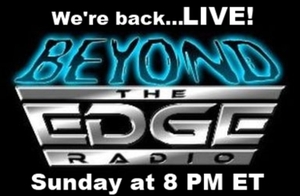 11/13/2016 Ed Douglas and Gavin Goszka of Midnight Syndicate: Zombies
11.16.2016 - By Beyond The Edge Radio
This week we welcome back the masters of Music of the Macabre Edward Douglas and Gavin Goszka of Midnight Syndicate. Ed and Gavin are back with a brand new release "Zombies the board game soundtrack." We'll talk with Ed and Gavin about the new album, play some of the new tracks, the new board game and behind the scenes what went into writing and producing Zombies.
ABOUT MIDNIGHT SYNDICATE
For almost two decades, composers Edward Douglas and Gavin Goszka have been known as Midnight Syndicate, creating symphonic soundtracks to imaginary films that facilitate a transcendental and adventurous escape into the secret dimensions of the mind's eye. To many of their fans, they are Gothic music pioneers brewing a signature blend of orchestral horror music and movie-style sound effects. To others, they remain the first "haunted house band" that forever changed the Halloween music genre and became a staple of the October holiday season. And some know them as the duo that created the first official soundtrack to the legendary Dungeons & Dragons role-playing game. Their critically-acclaimed works are reminiscent of sweeping, complex masterpieces by artists such as James Horner, Danny Elfman, Black Sabbath and King Diamond and have been featured as a part of groundbreaking films, television shows, video games and at haunted attractions, amusement parks and live performances worldwide.
Founder Douglas' passion for making music was ignited when he listened to records by The Beatles on his kid-sized turntable and dreamed of composing epic scores like John Williams' Star Wars, Superman and Raiders of the Lost Ark. Both he and Goszka grew up watching classic black and white horror films, listening to Vincent Price reading the tales of Edgar Allan Poe and Playing Dungeons & Dragons. They continued to fall in love with the world of horror, fantasy and the supernatural as they developed their own artistry: Douglas played piano and bass guitar, playing in rock band sand scoring student horror films in college and Goszka played keyboard in rock bands and went onto study classical composition and percussion in college. They eventually discovered ways to explore fantasy in literature, film and art through music.
In 1995, Douglas directed and wrote his first full-length horror film score to a thriller called The Dead Matter (1995), which helped set the principles of Midnight Syndicate in motion. In 2010, he went on to direct, score, and co-produce the remake of The Dead Matter alongside Robert Kurtzman (From Dusk Till Dawn, co-founder, KNB FX) and Gary Jones (Xena, Boogeyman 3). In 1997, he put together an album with the goal of providing a collection of "soundtracks to imaginary films." The collection presented many different narratives through a variety of genres, including classical, New Age and rock and was punctuated by sound effects. For the sophomore release, Born of the Night, Douglas decided to focus on a Midnight Syndicate album that would specifically appeal to gothic music fans, Halloween enthusiasts, and role-playing gamers. It was at this time that he decided to partner with compelling solo artist Goszka, whom he had known since 1994.
Midnight Syndicate's music has become integral to setting a powerful mood at top-rated haunted attractions and amusement parks as well as at costume shops, gaming and Halloween parties and Halloween-themed cruises from Siberia and Hong Kong, to Europe and the United States. In 2005, industry expert Leonard Pickel estimated that 75-90% of the attractions in the haunted house industry owned at least one Midnight Syndicate CD. In September, 2009, AOL released the Top 10 Best Halloween Music CDs of all time according to AOL/CBS Radio listeners. Three of the ten listed were Midnight Syndicate discs, which ranked lower only than Danny Elfman's Nightmare Before Christmas and John Carpenter's Halloween soundtracks. In 2015, their album Out of the Darkness was named as one of the 50 Essential H(continued)