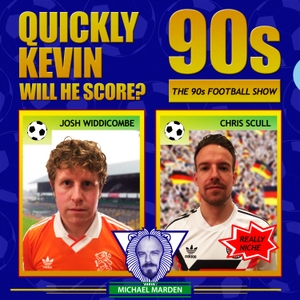 Elis James on Swansea City: S03 EP05
Our guest this week is friend of the show and Welsh football's favourite non-footballing son, Elis James. In this episode we dive headfirst into his beloved Swansea City A.F.C. in the 90s; The Vetch stadium on its last legs, a disastrous series of owners and managers seemingly determined to destroy the club and a cantankerous mascot hell bent on starting a fight at every opportunity. 
Plus we further explore Mark Hughes being good at volleys, share some Barry Fry anecdotes and pull some local radio stories out of the vault.
Twitter: @quicklykevin
Facebook: quicklykevin
Instagram: quicklykevin
Email: hello@quicklykevin
For your chance to win an exclusive 'Graham Says: Hit Les' Quickly Kevin mug leave us a 90's Football based 'Review Haiku' on iTunes!!
Thanks
Chris, Josh and Michael. For information regarding your data privacy, visit acast.com/privacy