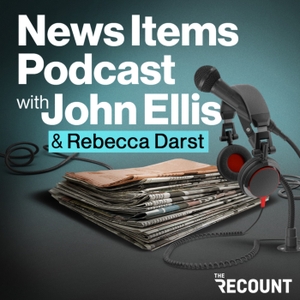 Science and tech headlines: Writing poetry, creating pictures, modeling proteins — the Beijing Academy of Artificial Intelligence's latest artificial intelligence model appears to be a massive step forward for China's AI efforts.Could machine learning help us understand (and speak to) whales?
News items: Benjamin Netanyahu, the longest-serving prime minister in Israeli history, is out. John explains why he thinks Bibi may be back, in the not-too-distant future.Election officials across the country are still getting death threats over imagined election fraud. John and Rebecca discuss why that probably won't stop anytime soon. Has Biden's agenda hit a wall? John and Rebecca discuss why the split Senate makes passing an infrastructure bill – let alone anything more ambitious – so tricky. Elizabeth Holmes swag is selling fast. Ahead of the Theranos founder's trial in August, mugs, t-shirts, and even shower curtains are in high demand. Rebecca points out the undercurrent of misogyny behind the boom — and how P.C. culture may have led to Holmes' ascent.
See acast.com/privacy for privacy and opt-out information.