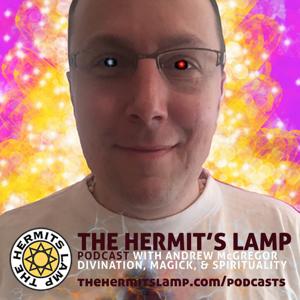 This week Andrew is joined by the one and only Aidan Wachter. We catch up a bit since our last Stacking Skulls Episode and the converstation flows from there. We discuss Aidan's book "Six Ways: Approaches & Entries for Practical Magic" (which has been very popular at the shop" and Aidan's Talisman work. We also dive into what it means to be open to spirit and the connections that can be made from there. 
Connect with Aidan on his website, and look for "Aidan Wachter" on the social media outlet of your choosing!
Think about how much you've enjoyed the podcast and how many episodes you listened to and think consider if it is time tosupport the  Patreon You can do so here.
If you want more of this in your life you can subscribe by RSS , iTunes, Stitcher, or email.
Thanks for listening! If you dig this please subscribe and share with those who would like it.
 
Andrew
 
 
 
ANDREW: Welcome to another instalment of The Hermit's Lamp podcast. I'm here today with Aidan Wachter, and, you know, I feel like Aidan's a person who needs no introduction, but in case this is the first time you've run across him, let me say: Aidan's been on before by himself, Aidan is part of the Stacking Skulls, which is the mythological magical band made up of a few of the people who come on here on the regular, and we get together and talk about magic, and Aidan is a talismanic wizard and genius who produces amazing jewelry, and Aidan just has a new book out, called Six Ways, which is, as I'm sure we'll talk about in the episode, the book that I wish that I had received when I was starting, and the book that I wish I had written if I was going to write a book on magic. So, it's all of those good things. You know, I gave you a bit of an intro, but for folks who don't know you, Aidan, who are you? What are you about? 
AIDAN: [laughing] What am I about? I've just been at the magic thing for a long time, and in a kind of weird pattern that I can see from now, I can kind of, and I'd imagine this is true of a lot of people, I can see at this point kind of the whole chain that got me here [laughs], and on top of the jewelry work, the kind of intention that I have is to kind of transmit as much of that as is useful to people. 
ANDREW: Mmmhmm.
AIDAN: Without all the detours that really were just mostly time wasters. And, yeah, I live on a little micro-ranch in the mountains of New Mexico, where most of the time it's really windy, but not today, it actually rained for the first time in, like, months! 
ANDREW: Uh huh.
AIDAN: With a bunch of chickens and a duck who's about to hatch a pile of ducks if that works out. I think today or tomorrow. And some goats and some dogs and my wife. And I play music, I write some, and I make a lot of silverwork. So. 
ANDREW: Nice. So, I mean, somebody was asking, before this episode was recorded, you know, what's the move like? Because, you know, you've been there for a while, but has it been a year yet? 
AIDAN: We've been in this house for just a little bit over a year now. About a year and a third. Yeah, the last place was a kind of weird one, cause it was kind of in a high-end homeowner association zone, of kind of Santa Fe suburbs? 
ANDREW: Mmmhmm.
AIDAN: Which is really not our scene! [laughs] We laughed that that house was the h