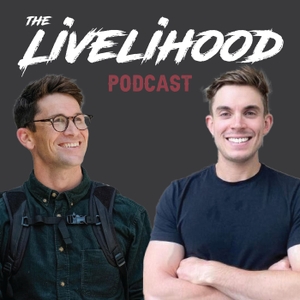 EP#34 - 7 Ways the World of Work is Changing & How you can benefit over the long term
08.01.2020 - By The Livelihood Podcast
In this episode Luke and Alex discuss the ways that world is changing, how businesses shifting to working remotely more and more, and how this will eventually effect how you get paid. Without location holding people back, they're free to roam the world and capitalise on countries with much lower living costs. 
We cover the following questions:
1. If cities are no longer the place to find work, what happens to cities property prices?
2. What happens when there is much more competition for remote jobs online?
3. How will you stand out in a more competitive job market?
4. What skills should you be learning now to make sure you stay ahead?
Talking Points:Work will shift to remote working - Corona virus forced companies to make people work from home. The experiment in working from home has proved there is no need for office based working 5 days per week - this means it's worth investing in lower economic, beautiful countries as they will become richer and more sought after locations.Property prices will drop in cities and go up in more rural, more scenic locations. Commercial lets and office space will drop in value. Career changes will happen more frequentlyAutomation will destroy a lot of jobs - truckers, delivery drivers, checkout workers, but also create a lot more jobs. Opened up the service based work globally like the manufacturing industry. Lower level jobs will become higher in competition, higher level strategic roles will be difficult to fill.Innovation hubs will no longer be localised - goodbye silicon valley, it will be based on the cloud. This means your cv, personal brand, website needs to be easily accessible from these companies. Google encouraging working remotely, as is Yahoo. This may mean slightly higher competition for roles as you're now competing worldwide. How does this affect wages? This means that more countries around the world's gdp will become more equalised.Higher education will be online only, less and less people will be educated in physical university buildings and more people will opt to take accredited online courses