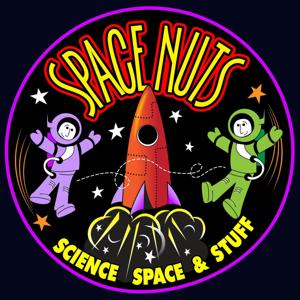 Evidence of Dark Energy?
09.23.2021 - By Space Nuts
Astronomy, Science, Space, and Stuff.Space Nuts Episode 271 with Professor Fred Watson & Andrew Dunkley ●Has the University of Cambridge accidentally stumbled across evidence of Dark Energy? Maybe.●A 2200 year old observatory that's been discovered in Peru…and it still works!●Listener questions…can we watch light move through the Universe if you're in the right place at the right time, a tongue in cheek question about flat-earth theory, can anything stay still in the Universe and a question about time and gravity? Fred has all the answers…Sponsor Details:This episode of space Nuts is brought to you by the good folks at NordVPN…and they have a great deal for you as a member of the Space Nuts community. Just visit www.nordvpn.com/spacenuts for all the details. You'll be glad you did.For more Space Nuts, supporter links, sponsor links, to visit the shop, buy a book, leave us your questions, and stream podcast episodes on-demand, visit our website at https://spacenutspodcast.com or the new www.bitesz.com site https://www.bitesz.com/show/space-nuts/ (mobile friendly).New link: https://spacenuts.io New Link: https://spacenutsshop.com to go directly to our shop.Find all our show links at https://linktr.ee/biteszHQ New: Take the Space Nuts Listener Feedback survey. We need to know how you think the show is going. Take the 1-minute survey at https://spacenutspodcast.com/feedback - thank you.Become a Space Nuts Crew Member (supporter) and help us reach our goal of becoming completely listener supported. We figure we can better use the time producing and researching more content for you, rather than chasing sponsors and advertisers. Space Nuts is a completely independent podcast and we receive no funds from any large corporations, Government grants etc. We rely on providing the best content we can for our listeners, but we still have bills to pay every month in order to keep the lights on. So, help reach our first goal of 1,000 subscribers at which point we'll become financially viable….and we can stop chasing advertisers.By becoming a Space Nuts crew member, you not only help us achieve our goals, but gain immediate access to our catalogue of special commercial-free versions of Space Nuts plus bonus content. Instant access to 100+ plus posts once signed up...Simply sign on via our Patreon or Supercast pages… https://www.patreon.com/spacenuts or (New) https://spacenuts.supercast.tech and if you'd like to check out our new bundled options: https://bitesznetwork.supercast.tech Details and links are also available on our website: https://spacenutspodcast.com or the brand new www.bitesz.comJoin the Space Nuts Facebook group...chat and share stuff with other listeners, ask your questions….Andrew may even answer them. This is your community so we want to hear from you. Just search for the Space Nuts Group on Facebook and join today. See you there… https://www.facebook.com/groups/2677812375570941Time to treat yourself with one of our new T-Shirts, Polo shirts, coffee mugs, stickers and more. Details...