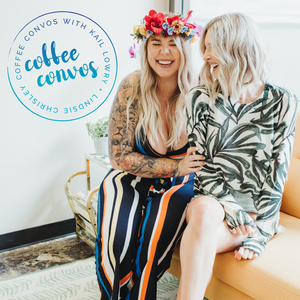 Kail and Lindsie are back together this week and they have so much to discuss. Sometimes life forces you to have a relationship with someone, and it doesn't always start off perfectly. Kail and Lindsie talk about how those relationships can improve, and how sometimes it just takes time for the connection to work. Plus as many of you know, Kail has been spending more time focusing on her fitness, and she has some updates for Lindsie. And as parents, it can be hard to find time for a private moment, especially when your kids are keen on busting through any door they please! How can they possibly get a minute to themselves? All this, plus scheduling a Philly Cheesesteak Date, on this week's episode of Coffee Convos!
This episode was sponsored by: Babbel, FightCamp, Philo, & Bartleby Write
Have a question you want answered? Want to give Kail and Lindsie a call? Leave them a message at ‪(609)-316-0060‬.
Music by Nathaniel Wyvern.
Licensed under Creative Commons: By Attribution 4.0 License.