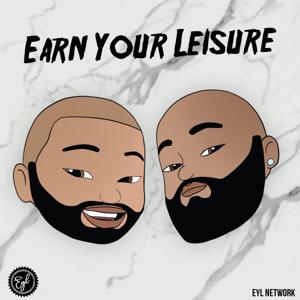 EYL #147 Eastside Golf on Jordan Brand Collab, & Changing Golf
08.17.2021 - By Earn Your Leisure
Olajuwon Ajanaku and his partner Earl Cooper are reshaping the face and culture of golf. The two friends met at Morehouse College, and they both were on the golf team that won the Division 2 National Championship in 2010. 
After they graduated and started careers in separate paths, the love of the game called them back. Olajuwon started a golf apparel brand called Eastside Golf. The company was the first to combine streetwear with traditional golf attire. 
The brand made history a few weeks ago by becoming the first golf brand to collaborate with Michael Jordan and the Jumpman Brand. They released a limited edition Jordan IV golf cleats that sold out in seconds upon release. 
On EYL #147, we went over how they built their brand, the details of the Jumpman collab, their interactions and working with Michael Jordan, golf culture, networking, the power of influencers, the ups and downs of having a merch company, and more. #golf #Jordanbrand #eastsidegolf #MichaelJordan 
EYL University: https://www.eyluniversity.com
Link to Investfest: https://investfest.com/
Host IG: https://instagram.com/earnyourleisure?utm_medium=copy_link
Guest IG: https://instagram.com/eastsidegolf?utm_medium=copy_link
Learn more about your ad-choices at https://www.iheartpodcastnetwork.com