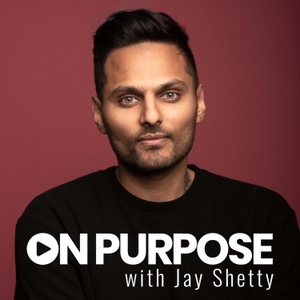 Fearne Cotton joins Jay Shetty to discuss the weight and importance of setting boundaries for yourself so you can learn to respect other people's boundaries, why you need to change when your inner voice is telling you, and channeling negative energy into positive outcomes and changes in you and around you.   
Fearne is the author of the book, Speak Your Truth, and one of the best known and most popular broadcasters in the UK and is most recently known as the Founder of the wellbeing brand, Happy Place. Her podcast, Happy Place, has featured an array of guests such as Ellie Golding, Jada Pinkett Smith, and Russell Brand amongst others.  
What We Discuss with Fearne:
00:00 Intro
02:11 The inspiration behind the running selfie
04:41 Try and push yourself with vibrant colors
07:48 Life is everything, it's loud and it's quiet
10:54 Don't ignore that consistent feeling of wanting to change yourself
14:11 Being yourself relieves the pressure to be brilliant at all time
17:03 When we're curious, we're always willing to learn
20:13 This social conditioning that we have to act a certain way
24:01 Speaking your truth is learning to say NO
27:52 Setting boundaries now will create healthy relationships
30:52 We need to be responsible for what we are putting out there
34:01 "I'm alright so I can be of service." - Fearne Cotton
36:51 The pros and cons of having stop abruptly when you mind is at work
39:56 Think about how you can channel negativity into something positive
44:54 Be messy and create something that is authentically you
48:28 We have something to go with how we feel
52:44 Fearne on Fill in the Blanks
53:54 Fearne on Final Five
54:52 How good are we at accepting other people's boundaries?
Like this show? Please leave us a review here - even one sentence helps! Post a screenshot of you listening on Instagram & tag us so we can thank you personally!
Episode Resources:
Fearne Cotton | Website
Fearne Cotton | Twitter
Fearne Cotton | Instagram
Fearne Cotton | Facebook
Fearne Cotton | YouTube
Fearne Cotton | Pinterest
Fearne Cotton | Books
Happy Place Podcast
Achieve success in every area of your life with Jay Shetty's Genius Community. Join over 10,000 members taking their holistic well-being to the next level today, at https://shetty.cc/OnPurposeGenius