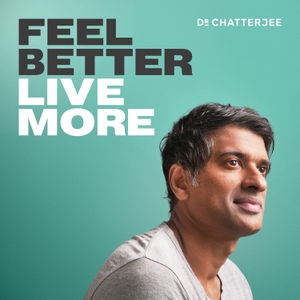 Feel Better, Live More with Dr Rangan Chatterjee
By Dr Rangan Chatterjee: GP & Author
What's Feel Better, Live More with Dr Rangan Chatterjee about?
"Health has become overcomplicated. I aim to simplify it"
In this podcast, we hear stories from leading health experts and exciting personalities who offer easy health life-hacks, expert advice and debunk common health myths giving you the tools to revolutionise how you eat, sleep, move and relax. Hosted by Dr Chatterjee – a GP with over 16 years' experience, star of BBC 1's Doctor in the House and author of The 4 Pillar Plan – Feel Better, Live More aims to inspire, empower and transform the way we feel. When we are healthier we are happier because when we feel better we live more.
Find out more on: https://drchatterjee.com/