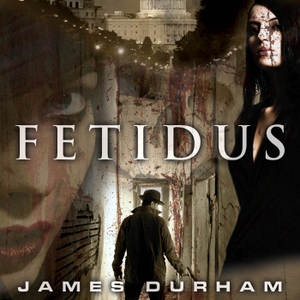 The twisted tale continues deep into the mind of Art Blanchard, with Episode 2 of FETIDUS: The Damned Heir! Join us back in the world of FETIDUS, stay for a while, and come to
know our unlikely hero of sorts, as he delves head-first into a midnight
mystery in the dark and fetid alleys of Washington, DC. As
always, if you enjoy FETIDUS, please feel free to share it far and wide!
After all, FETIDUS is about making the world a better place, isn't it?
Well, you'll see. Click below to listen to FETIDUS: The Damned Heir - EP02:Episode 2 (Chapters 4-7): 00:00 - Intro music and creditsThis
episode is read by the author and features the following voice talent:
Prebble Q Ramswell, Sara Barrack, Jose de la Mar, Bob Holmcrans and
Patrick Nugent. See CAST page for more details.01:57 - Chapter 4
"On my way back to the office, I smelled a rat..."
Meet the despicable Detectives Mercer and Steadman.10:01 - Chapter 5
"...the classical music which soothed my heavy ruminations..."
Get to know a little more about what makes Art Blanchard tick.20:49 - A word from our sponsor, Proud to Protect
22:40 - Chapter 6
"My despised former colleague and an unexpected discovery..."
Meet the slimiest lobbyist in DC, Marcus Patronello.32:17 - Chapter 7
"A midnight meeting with Leigh Donner..."
Art is just getting started with this mysterious dame.36:23 - Outro Thanks for listening! If you enjoy this episode, please share it!