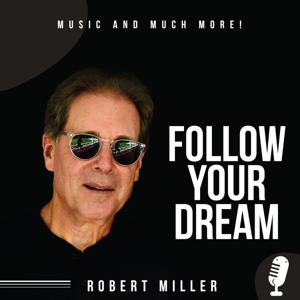 Follow Your Dream - Music And Much More!
By Robert Miller
What's Follow Your Dream - Music And Much More! about?
Robert Miller is a musician who followed his youthful music dream later in life and became a Rock Star in his 60s! In just 6+ years Robert and his band, Project Grand Slam, have released 11 celebrated albums including a Billboard #1, have over 5 million video views, more than a million streams, played festivals and concerts around the world, and shared the stage with Edgar Winter, Blues Traveler, Boney James and Mindi Abair.
Robert is living proof that you're never too old, and it's never too late, to follow and succeed at your dream, whatever it is!
Robert's 'Follow Your Dream' podcast will inspire and motivate you to pursue your dream. It features solo shows and engaging, fun interviews with amazing famous guests - musicians, actors, broadcasters, corporate executives and others. All of whom have followed their dream!
Musicians like John Lodge of the Moody Blues, Mark Farner of Grand Funk Railroad, Ted Nugent the Motor City Madman, Felix Cavaliere of The Rascals, Mark Stein and Carmine Appice of the Vanilla Fudge, Jim Peterik of the Ides Of March, Joey Dee of Peppermint Twist fame, Bev Bevan of ELO, Leslie Mandoki and Tony Carey of Mandoki Soulmates, Steve Katz of Blood Sweat and Tears, Joe Bouchard of Blue Oyster Cult, Elliott Randall of Steely Dan, '60s pop star Chris Montez, celebrated British composer Sarah Class, Bassists Leland Sklar, Nathan East and Jimmy Haslip, Jeff Lorber and Mindi Abair.
Broadcasters like "Cousin Brucie" Morrow and Mort Crim. Actors like Robert Funaro of The Sopranos. Corporate leaders like Garry Ridge CEO of WD-40, Scott O'Neill former CEO of the New York Knicks, Marie-Pierre Stark-Flora of Herb + Flora, and Lynn Power of J. Walter Thompson. Authors like Mark Bego the leading rock biographer.
Plus Songfests, Bonus Music Episodes and Special Episodes like The Beatles "Get Back" movie, Paul McCartney's "The Lyrics", David Bedford - Beatles/Liverpool historian, and Debbie Greenberg from Liverpool's Cavern Club!
Join in the fun each week and get inspired and motivated to follow and succeed at YOUR dream!