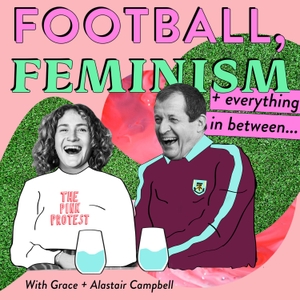 Football, Feminism & Everything in Between
By Alastair Campbell & Grace Campbell
What's Football, Feminism & Everything in Between about?
Football and feminism are both huge parts of our culture and everyday lives, but rarely have they been brought together and forced to get along.
In this podcast, comedian and feminist activist Grace Campbell, and her father, that well-known guy from politics, Alastair Campbell, bring Grace's obsession of feminism, and Alastair's obsession of football together to create what they hope is a fun and thought provoking podcast.
Each week they'll be joined by people from varying industries to chat football, feminism, and everything in between. The guests will vary from football (Burnley manager Sean Dyche) to feminism (countdown star Rachel Riley) to anything else in between (Ed Miliband, Kelly Holmes, and Josh Widdecombe).
*ABOUT THE HOSTS *
Grace Campbell is a comedian and activist who is fast making a name for herself as a feisty feminist stand-up. Grace is currently writing her debut solo-show to the Edinburgh Fringe this summer. The show, Why I'm Never Going Into Politics, tells Grace's story of growing up in politics and why she feels her life so far has meant she could never be a politician. As an activist, Grace co-founded the feminist, law-changing, activist collective, the Pink Protest.
Alastair Campbell is a writer, communicator and strategist best known for his role as former British Prime Minister Tony Blair's spokesman, press secretary and director of communications. Alastair is a lifelong Burnley fan and sometimes even a pundit for Burnley FC. Alastair is still very active in politics, mainly focussing his energy on mental health causes, and trying to stop Brexit. He is very excited to be venturing into the podcast world with his daughter.