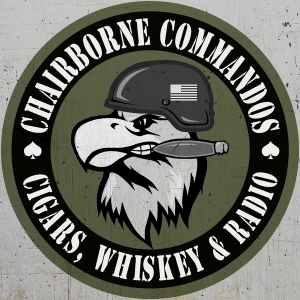 On today's show:
* Rhonda Rousey going to the Marine Corps. Ball.
* Chinese warships spotted in the Bearing Sea during President Obama's visit to Alaska.
* JT picks September for the Chairborne Meet UP.
* Quick ISIS update.
* Finally Air Force will Test F35 against the A10 in CAS Operations.
* Invisible drone technology.
* Oshkosh gets the contract to replace the aging Humvee.
* Listener Q and A
Get more Damon Friedman:
http://sofmissions.com
Surrender is an outreach ministry of SOF Missions. This movie's aim is to bring awareness to the Post Traumatic Stress and suicide epidemics that plague many of our military veterans. Check out http://thesurrendermovie.com for more details.
Write Us A 5 Star Review:
http://ChairborneCommandos.com/review
Get the gear you need:
http://ChairborneCommandos.com/pvc
http://ChairborneCommandos.com/coffeemug
Visit Our Show Sponsor:
Attention military units, first responders and anyone needing a custom PVC velcro patch! Visit flexsystems.com for all your PVC patch needs and be sure to tell them Chairborne Commandos sent you and get 50% off mold fees for 500 or more parts!
http://www.flexsystems.com/custom-velcro-patches/