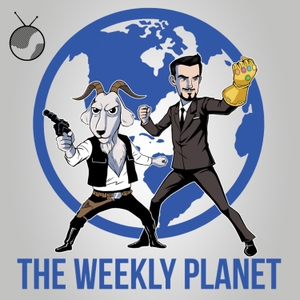 Join the 10 million who have tried Harry's. Claim your special offer by going to http://www.HARRYS.COM/WEEKLYPLANET
HEY GET THIS RIGHT. Terminator: Dark Fate is bombing hard all the live long day so we get into franchises that were killed. Plus the resurrection of James Dean and Carrie Fisher, a trailer for The Invisible Man, casting for The Batman, The Boys, a new Spider-Verse movie, Thrant-Man and more. Thanks for listening!
Prime Mates: https://bit.ly/2okDXKb
Donate Here Please: https://www.theintrepidfoundation.org/planetbroadcastingfundraiser
Suggestible Podcast: https://aca.st/cf053a
0:00 The Start
1:16 James Dean is still dead
9:18 The Batman casting
14:29 The Invisible Man trailer
20:51 Carrie Fisher in TROS
24:29 The Boys season 2
25:10 In2 The Spider-Verse
31:25 Get Disney Plus or else
36:22 Fantastic Beasts 3 is happening
43:18 Franchise Killing Movies
1:25:36 What We Reading/What We Gonna Read
1:32:58 Letters It's Time For Letters
James' Twitter ► http://twitter.com/mrsundaymovies
Maso's Twitter ► http://twitter.com/wikipediabrown
Patreon ► https://patreon.com/mrsundaymovies
TWP Itunes ► https://itunes.apple.com/us/podcast/the-weekly-planet/id718158767?mt=2&ign-mpt;=uo%3D4
 
TWP Direct Download ► https://play.acast.com/s/theweeklyplanet
 
TWP YouTube Channel ► https://goo.gl/1ZQFGH
 
Buy The Terminator Collection Amazon ► https://amzn.to/2ocHVoD
 
T-Shirts/Merch ► https://www.teepublic.com/stores/mr-sunday-movies
 See acast.com/privacy for privacy and opt-out information.