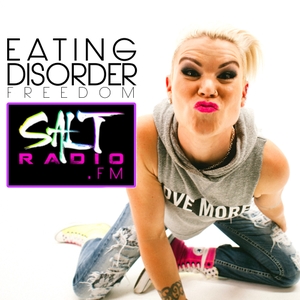 Before SALT ED FREEDOM Rebecca had binged + purged every day – since 2004. That's 11 years. Every. Single. Day. #NoExceptions. And her battle with ED began even before that … it had been a total of 20 years of survival.
Rebecca would wake up each morning feeling exhausted + defeated because her toxic eating disorder rituals took everything out of her.
From the moment she opened her eyes – her every thought was about food. Her identity was defined by her eating disorder. Apart from "ED" she had no idea who she actually was.
Her mind wandered during conversations because of the toxic paranoia + self-conscious thoughts spinning inside her.
Her relationships with her children, husband + friends took a backseat to her relationship with ED.
She would never wander far from her safe zone of "housebound binge privacy".
She was happiest when her kids would play on their own – so she could binge.
Rebecca felt fake, depressed, + completely alone.
She couldn't seem to find a way out no matter how hard she tried. And then she enrolled in SALT ED FREEDOM.
Inside of this program, Rebecca was finally "gotten" + empowered.
She learned the TRUTH about FREEDOM and what it took to get there — and she used it to save her own life. Rebecca learned to TRUST herself again.
She stopped numbing out her emotions with food and learned to FEEL again!
Rebecca said GOODBYE to starving, bingeing, purging, perfectionism, anxiety, depression, toxic ED voices, and people pleasing…
Today Rebecca is FREE to LIVE — no longer haunted by fears of being found out to be "imperfect".
She is PROUD of who she is. She VALUES herself. She no longer concerns herself with getting the approval of others – because she has her own.
She uses food to NOURISH her body and to give herself the energy to fuel the beautiful life she has always wanted to live!
She is a YES to living for God.
She is present + in the moment with her kids, husband and friends.
She is resilient, compassionate, giving + loving…
… She. Is. FREE.