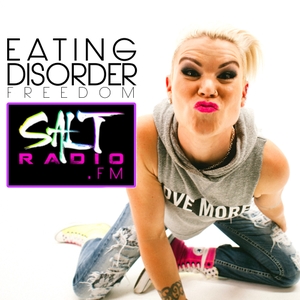 Every day inside of Sydney's eating disorder was all about lies, guilt, self-hatred, sadness and anxiety. She looked like a "sick" stick figure with no muscle tone and popping veins. It hurt her to sit down, her hair fell out, her period stopped, she could barely sleep at night and she was exhausted all the time.
Sydney tried to outrun her eating disorder – moving from city to city, but it followed her everywhere. She convinced herself that being "busy" with support groups, counselors and meal plans, meant that she was making progress – but the truth was she didn't have the tools to get a grip on it.
Her friends + family tried to "cure her". They sat with her during meals, drove her to doctor appointments and paid for her treatment – LOTS of it. But the guilt over her failed recovery attempts just drove her deeper into it.
She purged supervised meals, threw out packed lunches and carried a scale in her backpack so she could weigh herself at a whim – she was in deep. Getting kicked out of an inpatient treatment facility was her rock bottom – She didn't follow the rules so she wasn't worth saving.
Now that Sydney has claimed total FREEDOM from her eating disorder, she sees herself in a whole new light. She loves who she is. She appreciates the little things and sees the positive in everything.
Her confidence grows each time she busts through her fears – and she chases those suckers down! She is unstoppable. She treats her body with nourishing food, love and compliments.
Today Sydney is hanging with real friends, enjoying spontaneous adventures and kicking butt in dance, gymnastics, wake boarding, snowboarding – and FREEDOM COACHING!! Her life is FREE and it is HERS – and She. Is. Living. It.