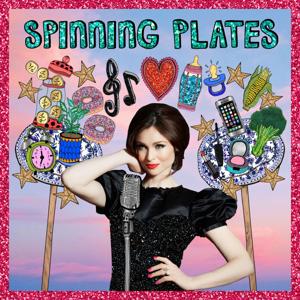 Frieda Gormley - originally from Ireland and with a background working for Top Shop - set up the flamboyant interior design business 'House of Hackney' with her husband in 2011. They were doing up their house in East London at the time and wanted to get away from the plain white decor of the noughties. They set up what they themselves were looking for - a place to have a bit more fun with wallpaper and fabrics: think flamingos and palm trees and rich colours. I was an early customer, so when Frieda came to my home to record our chat, she saw quite a bit of her wallpaper on our walls - some of it with added grafitti from my youngest son, Mickey. Oops.
Frieda talked about how inspirational her grandmother Peg was to the look an feel of House of Hackney. She remembers how starting their own business was extremely tough financially but meant that they could create their own rules, such as using UK-based manufacturers and more recently, giving their hard-working staff a 4-day week.
Frieda and her husband Ravvy always loved their annual holiday in Cornwall, but 3 years ago they took the plunge with their two young children and moved there permanently. Frieda told me the intriguing story of the coincidences which led to them buying their new home. The word serendipity comes to mind! She recalls that the move from London to Cornwall was very unpopular with their children to begin with, and that as parents they had to re-examine their motives before pressing ahead. But it has since proved a total hit.
Now, where's my calendar? I must book that playdate with her...
Spinning Plates is presented by Sophie Ellis Bextor, it is produced by Claire Jones and post-production is by Richard Jones. Hosted on Acast. See acast.com/privacy for more information.