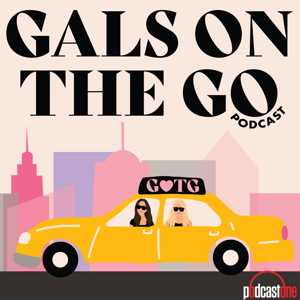 friendships! relationships! being single! oh my!
03.29.2022 - By Gals on the Go
The gals are answering some of your questions today and things are getting deep!  Brooke and Danielle do a full deep dive on making/maintaining friendships in your 20's, how to *love* being single, how to keep the spice in a relationship, and more!  The gals also catch up and discuss their opposing weekends…  Be sure to tag @galsonthegopodcast in your listening selfies and stories!
SHOP GOTG MERCH! *NEW COLLECTION NOW AVAILABLE* https://fanjoy.co/collections/gals-on-the-go
GOTG jams playlist https://open.spotify.com/playlist/1vQ4FvPya39ff8SOGK9Dg9?si=87f7bd7fbc4445fd
GOTG YouTube Channel (watch full episodes with video!)  https://www.youtube.com/channel/UCkCy3xcN257Hb_VWWU5C5vA  
Gals On The Go Instagram https://www.instagram.com/galsonthegopodcast/  
Brooke's Youtube Channel https://www.youtube.com/brookemiccio  
Brooke's Instagram https://www.instagram.com/brookemiccio/  
Danielle's Youtube Channel https://www.youtube.com/c/daniellecarolan  
Danielle's Instagram https://www.instagram.com/daniellecarolan/  
Business Inquires Can Be Sent to: [email protected]
Please support the show by checking out our sponsors!
Bloom: Bloom Nutrition is offering our listeners 15% off your purchase of their Greens & Superfoods blend when you go to bloomnu.com/GALS
Credit Karma: Go to creditkarma.com / loanoffers to find the loan for you
FitOn: Work out for free anytime, anywhere. Text GALS to 64-000 to join FitOn for free!
GoMacro: Get your hands on these two delicious new flavors by going to gomacro.com and using promo code GALS for 30% off plus free shipping on all orders over $50!
ZocDoc: Go to Zocdoc.com/GALSONTHEGO and download the Zocdoc app for FREE