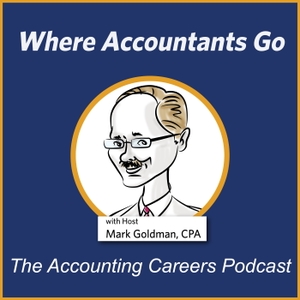 Shanikwa Davis of S. Davis Tax Consultants in Braintree, Massachusetts, joined us for this episode of Life In Accounting, the Where Accountants Go podcast.
Growing up inner city…
We start the interview as we do with most, by getting details on Shanikwa's early career.  Shanikwa started out with an interest in tax due to a fortuitous assignment she had shadowing an executive with an investment company.  However, as her life moved on she had other priorities that necessitated that she focus on providing for her family.  It wasn't long though and she realized that if she pursued tax as a long-term career choice, she would achieve the life that she wanted for her kids, so she got back into her education and worked towards her master's degree.  She then eventually attained her CPA.
Enrolled Agent too!
We discuss this in the interview as well because I found it interesting that Shanikwa is both a CPA and an EA.  As she explains, becoming an Enrolled Agent was a practical move as it allowed her to more quickly represent clients with the Internal Revenue Service.  However, she makes a point in the interview that even though she is now a CPA as well, the EA status is beneficial.  No reciprocity is needed across the US in order to represent a client as an EA with the IRS.  In some cases this may not be true if she only had her CPA certificate.  Therefore, while the CPA certification definitely has it's advantages, in her case it makes sense to maintain her EA status as well.
Lessons learned along the way
As we discussed the evolution of Shanikwa's tax advisory business, we talked a little about the lessons learned along the way.  One of the nuggets of wisdom that she passes on for our listeners is how important it is to learn how to stand your ground in negotiations, particularly for female entrepreneurs.  In Shanikwa's experience as a woman in business, sometimes you run across clients that are more aggressive about negotiating than you are, and it's important to remember that the value of your service is the same regardless of how aggressive a negotiator the other party may be.  It sounds like this is a lesson that she's had several opportunities to learn, but because of that her belief in her value proposition is solid and something that comes more naturally as she has continued to develop her practice.
This episode has something for everyone.  Those just starting their careers, those struggling with life issues, and even those later in their careers looking to further develop their own business.  I hope you enjoy it as much as we did recording it.
Other episodes you may enjoy will include:  Amy Pitter and Mariette Martinez
(For our latest book, "49 Tips For Working With A Headhunter", click here!)