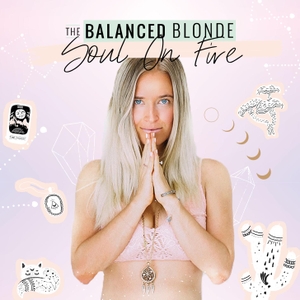 Ep 164 ft. Kimberly Snyder: Holistic Nutrition, Glowing Health, & Plant Based Inspiration from the Wellness Goddess Herself! (Best of the Show!)
10.23.2019 - By The Balanced Blonde // Soul On Fire
Best of the Show! As The Balanced Blonde is on hiatus, today Jordan is re-releasing this episode with the incredible Kimberly Snyder. Kimberly is a celebrity nutritionist who believes wellness is about so much more than food. That's why there is such a huge emotional and spiritual dimension to her work. In today's episode of the podcast she joins Jordan to talk about biomimicry, eating light to heavy and tuning into our body's natural intelligence. Jordan can't wait for you to listen to or re-listen to this conversation!
We'd like to thank (https://www.humnutrition.com/) , don't forget to use the discount code SOUL at checkout to get 20% off your first order!
Cured Nutrition (https://www.curednutrition.com) for 10% off. 
To learn more, and for the complete show notes, visit: http://www.thebalancedblonde.com/podcast/ (http://www.thebalancedblonde.com/podcast/)
Resources:
Learn more: solluna.com (https://mysolluna.com/blog/)
Instagram: @_kimberlysnyder (https://www.instagram.com/_kimberlysnyder/?hl=en)
Read: (https://shop.mysolluna.com/pages/recipes-for-your-perfectly-imperfect-lifeLink)
The Balanced Blonde is a production of (http://crate.media)