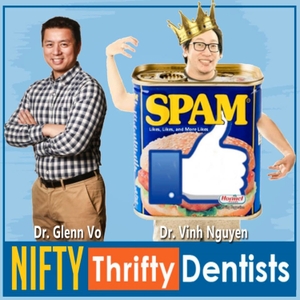 Episode 177: Germfree Innovations: Sanitization Meets Innovation: How to Keep Your Office Clean Longer
01.18.2021 - By The Nifty Thrifty Dentists
NOTES
GermFree produces two products, MyShield and Germfree24. Its most notable items are hand sanitizer, soap, and surface cleaners
The items are different from standard cleaners because they are largely composed of Zetrisil. 
Zetrisil kills 99.9999% of germs on contact, and lasts for up to 28 days, providing long-term protection against fungi, bacteria, and viruses. 
They are not for use on skin but are not harmful in the event of accidental skin contact.
 The surface cleaners are odorless and safe if accidentally inhaled.
Cleaners are all surface for optimum hygiene 
Their technology uses a mechanical rather than a chemical bond, which will lower the dangerous levels of exposure to your staff and patients.
Cleaners are water based
They have foaming and gel hand sanitizer, both with Zetrisil
There is a MyShield topical antiseptic, which may be used on scrapes, cuts, and burns
They also make a powerful and odorless laundry detergent, which causes no discoloration when used
NIFTY DEAL
Use code Nifty on the Germfree website to get 20% off
LINKS
Website: https://www.germfreeinnovations.com/
CONTACTS
Phone number: 980-296-2828
Or contact them through messaging on their website