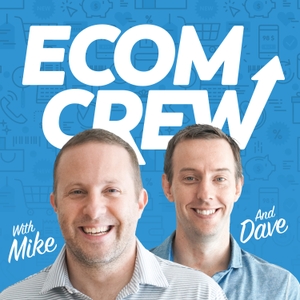 If you've been to a handful of ecommerce live events, chances are you've met Carole Rains. She's a regular at these functions and always has a ready smile for anyone.
Carole Rains didn't become a solopreneur until later in life. She started her career in the pharmaceutical industry and then transitioned to becoming a chef. The years and monotonous pace led her to an interest in ecommerce. Today, she's the proud owner of two stores, Rustic Artistry and Emu Joy.
In this episode, you'll learn:
Carole's thoughts about getting more women in ecommerce (3:57)
Carole's take on getting into ecommerce later in life (7:31)
How she started her first store (11:22)
How she got her second store (11:39)
How she makes her businesses work for her lifestyle (14:14)
Challenges she faces in running her businesses (23:00)
This episode is part of our Women's Month celebration. We'd love to see more women in the ecommerce industry, so if you are a female business owner, head over to www.ecomcrew.com/underthehood and tell us your story. We'd love to feature you on the podcast.
If you have any questions or comments, feel free to leave them below. Happy selling!
Full Audio Transcript
Mike: This is Mike and welcome to the 265th edition of the EcomCrew Podcast. Ever so slowly, marching towards Episode 300, that'll be a fun milestone to hit later this year. Its incredible how many of these that we've done, and how far we've come since Episode 1. I was just listening to Episode 1 the other day, talking to Grant — we were just talking a couple days ago and I went back and listened to that and it was cringe worthy and its funny how far we've come, and I just think that we can continue to do better. We are working on making better content, and I think that this Women's Month content is a big part of that. 
There's been some amazing women entrepreneurs that have come on so far, and today's entrepreneur is no different, no other than Carole Rains on the podcast. Anyone that has ever been to a live event, Carole goes to a lot of them and most people that go to these events end up meeting her because everyone talks about her, everyone tries to introduce you to Carole, she's just the nicest person ever. I mean, she's incredible and I look forward to seeing her smiling face and giving her a hug at every one of these events, that's one of the things I look forward to the most and catching up with her about her life and her kids and all of the things that she's been up to since we last got to catch up but its always just fun chatting with her and its cool seeing how someone who's in the older age bracket, has gone off and learnt new skills and done those things and that's something that we've talked about here on this podcast. 
And we have a pretty cool casual conversation about that. Pretty neat, I think and it goes to show you, anyone can do this whether you're a woman, whether you're an older person, whether you– whatever background you have, anyone can do it if you set your mind to it, and Carole's just a testament to that and I think that you're going to enjoy the roundabout way that she got into Ecommerce, the sites that she has, and some other things that we get to chat about.
So without further ado, let's get into this episode with Carole, I hope you guys enjoy it and we'll talk to you on the other side of this break. 
Mike: Hey Carole, welcome to the Ecomcrew podcast! 
Carole: Hey Mike! 
Mike: Its great to have you here, you're one of my favourites. Whenever I go and travel to all these events, you seem to always be there and you always have this amazing smile on your face and a welcome hug that greets us from our long ...