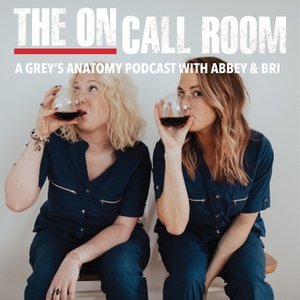 This is Abbey's last podcast in her twenties and she has had a pretty wonderful decade. If you haven't already, wish her a Happy Birthday!
This week we have another crossover episode. Addison shows up with her brother who has worms in his brain. Derek works his magic, and saves his life. Afterwards, they celebrate at Joe's by singing the terrible song Derek wrote for Addison when they were getting married. That's right, Derek played the guitar...who knew?
Then Derek botches Jen's surgery and cuts out a lot of her brain. Then he punches Mark in the face. Not a good day for Derek.
Mark gets punched in the face. Not a good day for Mark.
Izzie finds out that the blood test she had done on her was mixed up with another patient, and she isn't just anemic but has cancer. Not a good day for Izzie.
This mix up was Sadie's fault...of course. Not a good day for Sadie.
Summary: Not a good day.
SPONSORS:
www.thisisaday.com
Use code OnCallRoomxADAY to get 20% off your first purchase!
____________________________________________________________
Become a sustaining member and cohost the show! Follow the link below:
www.patreon.com/theoncallroom