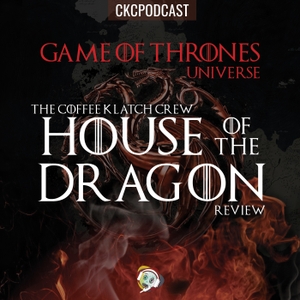 Jason and Cristina reflect on the entire Game Of Thrones Series. We discuss the Series MVB's Living and Dead. Rate our 5 favorite episodes of all time, Live or Die Results, Theory Results, Book Differences, Klatcher's Comments and more!
Book Spoilers: Time Stamp - 1:07:50 - 1:27:50
Thank you so much to everyone who enjoyed this cast with us. We love you all!
Sponsor: Twillory - Shirts shouldn't wrinkle, itch or sweat! Twillory makes stocking up your closet easy, affordable and the perfect fit – guaranteed! For our listeners, you can get $25 off by visiting Twillory.com/ckc and using the Promo Code: CKC.
Check out our Patreon page where we give you bonus content and monthly movie reviews!
Email us at [email protected]
Tweet it!: Tweet: Listening to the Coffee Klatch Crew Podcast on iTunes! #ckcpodcast
Facebook: Facebook page!
Subscribe to us via iTunes!