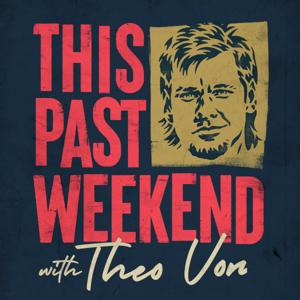 Theo discusses the Logan Paul vs Floyd Mayweather fight, reacts to a naked woman destroying an Outback Steakhouse, shares his love of woman's softball and pays tribute to some childhood friends that recently passed away. Plus, Theo gives a FaceTime call to a single mother battling cancer and Hodgkin Lymphoma and offers her some help.
New Merch: https://theovonstore.com​
New Tour Dates!
https://theovon.com/tour
Music: 
"The Come Up" - Eddie 9V
https://bit.ly/3v6zQOA
"I Can Make You Like Me" - Akira The Don 
Support our Sponsors: 
The Zebra: https://thezebra.com/theo
Peloton: https://www.onepeloton.com
Fiverr: https://www.fiverr.com use code Theo for 10% off your 1st order
BlueChew: https://bluechew.com use promo code THEO to get your first order free
Liquid Death: https://liquiddeath.com  
Podcastville mugs and digital prints available now at https://theovon.pixels.com
Submit your funny videos, TikToks, questions and topics you'd like to hear on the podcast to [email protected]
Hit the Hotline 985-664-9503
Video Hotline for Theo Upload here: http://bit.ly/TPW_VideoHotline
Find Theo:
Website: https://theovon.com
Instagram: https://instagram.com/theovon Facebook: https://facebook.com/theovon
Facebook Group: https://facebook.com/groups/thispastweekend
Twitter: https://twitter.com/theovon
YouTube: https://youtube.com/theovon
Clips Channel: https://www.youtube.com/channel/UCiEKV_MOhwZ7OEcgFyLKilw
Producer: Nick Davis https://instagram.com/realnickdavis
Producer: Sean Dugan https://www.instagram.com/SeanDugan/
See omnystudio.com/listener for privacy information.